InterPlayce
In 2000, Body Wisdom, Inc. began creating a permanent location for InterPlay activities in downtown Oakland, CA, by purchasing a two-story brick building which it transformed into what is now called "InterPlayce." The 1922 building required extensive renovation in order to create a studio with a sprung wood floor, an a wheel-chair accessible bathroom, office space, and the seismic retrofitting to strengthen it in case of earthquakes. Many members of the InterPlay community contributed generously to make the building come alive.
The building has become a center both physically and symbolically for the world-wide InterPlay community. The studio was dedicated on February 29, 2004, (Leap Year Day). It is used for InterPlay classes and is also rented out for use by groups and organizations that often quite similar intents and purposes to those of InterPlay.
Having the building has created a stable home for InterPlay and a presence in the city of Oakland. Having separate office space has also allowed the staff of Body Wisdom, Inc., to expand. The upper floor of the building includes several living spaces (now condominiums), which are almost all occupied by InterPlayers, including co-founder Phil Porter and his partner Chinh Nguyen.
The building is part of the burgeoning KONO community, which includes a diverse collection of businesses, restaurants and residences. It is at the epicenter of the Oakland First Friday events (sometimes known as "Art Murmur") which occurs each month right on Telegraph Avenue.
InterPlayce is located at the corner of 23rd Street and Telegraph. It is just a short walk from the 19th Street BART station, and is served by several bus lines making it easily accessible by public transportation.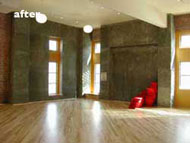 The InterPlayce Studio
Body Wisdom, Inc., purchased what is now "InterPlayce" in 2000. Extensive renovation was done to create a 36'x36' foot studio with a sprung-wood floor.