Contact Us
InterPlay & Body Wisdom, Inc.
Body Wisdom, Inc., is the not-for-profit incorporation that coordinates InterPlay activity. The national InterPlay office is located at "InterPlayce" in Oakland, California.
InterPlay/Body Wisdom
2273 Telegraph Avenue
Oakland, CA 94612
510/465-2797
office@interplay.org
fax: 510/836-3312

Reporting Hurts, Harms, Disagreements, or Conflicts
If you have experienced a hurt/harm or a disagreement/conflict in an InterPlay setting, you may get community support for dealing with it if you choose. Read more...
Body Wisdom, Inc. Staff
Co-Founder Cynthia Winton-Henry & Phil Porter
Administrative Director Angela Urata info@interplay.org
Coordinator for Integrity & Innovation Christine Gautreaux christinegautreauxmsw@gmail.com
Development Director Agnotti Cowie
Administrative Assistant Lucia Poole
Liaison to People of Color Carolyn Renée
Liaison to International Leaders Masankho Banda
Racial Equity & Transformation (RET) Committee Coordinator Sacil Armstrong
Liaison to Emerging Generations Tere Zorich
Life Practice Program Coordinator Jane Siarny
Leader Training Program Coordinator Ginny Going
Communications Coordinator Karen Rodriguez communications@interplay.org
Send an Email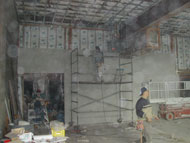 The dance studio at InterPlayce as it was being created in 2004.