InterPlay World News
Thanks to All Who Took Part in Give InterPlay Day!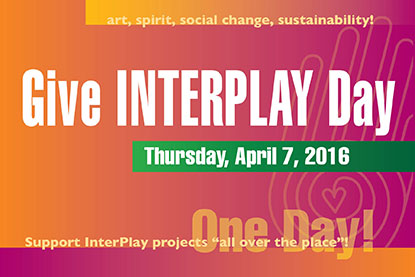 Thursday, April 7, 2016 was Give InterPlay Day. 169 individuals contributed a total of $14,455 toward 8 different InterPlay projects, both national and regional. Thanks to all who contributed!
Here are the results to date for each project:
Support InterPlay Atlanta $1,670
Changing the Race Dance $2,420
Support InterPlay Chicago $485
Support InterPlay DC $575
Grow the InterPlay Movement $4,140
Support InterPlay Seattle $1,310
Support Millennials and Leaders of Color $3,220
Support InterPlay Twin Cities $635
Millennials Immerse Themselves in InterPlay in Toronto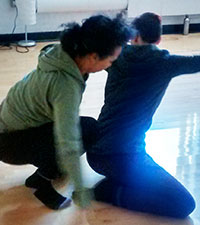 In March of 2015, InterPlay leaders Rehana Tejpar and Agnotti Cowie organized the first ever InterPlay Art and Social Change Weekend Untensive in Toronto, Canada.
Both leaders had participated in one of the summer Art & Social Change Programs in Oakland and Agnotti has recently been chosen to be the first Millennial Coordinator for InterPlay world-wide. Nine millennial artists, activists, educators, community organizers, healers, facilitators, and lifelong learners took part in the Toronto weekend.
Rehana reports:
"We made magic! People came with courage in the face of fear, trust in the face of distrust and openness in the face of cynicism. What unfolded was deep, beautiful connection.
"Whilst many participants attending had prior movement experience, it was noticed time and time again, the power of the InterPlay forms to bring us back to the body, to the moment, and trusting what comes. People shared that the InterPlay tools and forms—especially exformation, witnessing and the walkabout—were transformative practices to carry forward in their lives. What felt wonderful and affirming was the trust and compassion people shared, creating a space where it was safe enough to be vulnerable, to be ourselves. It was indeed, sacred."
This was the launch of InterPlay in Toronto and the beginning of a bi-monthly playgroup on Sundays from 2:30–4 pm at DANZon Studio and Arts Centre (2480 Dundas St W.) For more information, please email Rehana.
Free InterPlay Sample! Every First Sunday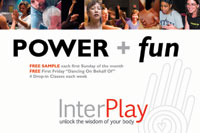 Every first Sunday of the month, we offer an InterPlay Free Sample. The next one is on Sunday, May 1, 2016, from 2:00-3:15 pm in Oakland.
A free and easy "welcome" to InterPlay! Come for a sample of InterPlay's passionate, effective approach to changing the world! Easy, fun, life-changing! Learn about the latest and greatest developments in InterPlay and find out why InterPlay has spread around the world.
InterPlayce
2273 Telegraph Ave, Oakland, CA 94612
A few blocks from the Oakland 19th St. BART station.
Read why it might be important to give free rein to your right brain!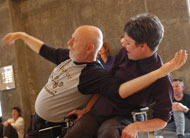 InterPlay Blogs
Read more about a wide variety of InterPlay-related topics on one of the three InterPlay blogs.
Items by Phil Porter about basic InterPlay wisdom for both individuals and groups.
Virtual Friday Morning InterPlay
Each week, Cynthia Winton-Henry creates a virtual InterPlay experience including stories, music, video, poetry and suggestions for simple dances. Get your InterPlay "fix" even if you can't make it to a class.
Each Monday, Cynthia shares observations and ideas in emails she sends to core members of the InterPlay community. This blog is a collection of those emails.