InterPlay Outreach
InterPlay is a powerful tool to change people's lives.
As more and more people have learned how to share InterPlay with others, they are taking InterPlay into settings where it can be a useful tool for unlocking body wisdom for all sorts of people. It is being used:
in prisons
in schools at all levels
with homeless populations
in healthcare settings
in social service organizations
with children in after-school programs
This is happening both in the United States and in other countries. The InterPlay practice is to follow the natural connections of relationship. We look for partnerships with those who recognize and desire the gifts and tools that InterPlay has to offer.
InterPlay Outreach Stories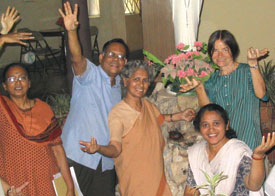 Prashant Olalekar, a Jesuit priest from India, learned about InterPlay while studying in the San Francisco Bay Area. On his return to India, he began to see the ways in which InterPlay could benefit members of his community, from women in countryside "slums" to members of religious orders to engineers and professionals of all sorts. He began sharing InterPlay and then invited US InterPlayers, led by InterPlay co-founder Cynthia Winton-Henry, to come there to teach, lead and learn. We have now completed three trips there over the last three years, building connections with the people there, training InterPlay leaders and learning about how InterPlay can be adapted to fit the culture and practices of that place.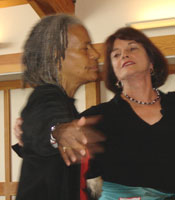 Sheila Collins organized and taught InterPlay in Texas for several years. When she moved to Pittsburgh, she began again to build an InterPlay community. Believing that InterPlay can serve "a noble purpose" she forged a relationship with the Sarah Heinz House, which is part of the network of Boys & Girls Clubs. She taught classes there, created performances and worked with their Board of Directors.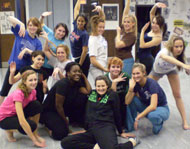 Diane Rawlinson teaches dance at Wheeling High School in a suburb west of Chicago. She began introducing elements of InterPlay into her curriculum both as a performance technique and a way to build self-awareness and self-esteem in her students. She has also adapted the InterPlay method to work best with high-schoolers. Her students have created exciting works that have been included in national competitions and Diane has shared InterPlay with other dance teachers through her writing in national dance publications and teaching at conferences.
InterPlayers working in related professions have also gathered together to share ideas about how InterPlay can be used in their work. For example, a number of InterPlayers around the country working as therapists, spiritual directors, chaplains and social workers have advanced the use of InterPlay in their fields.
Check out other areas of interest in which leaders are applying InterPlay tools and practices.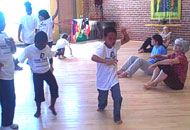 Watch this video about InterPlay in India.