Join us for Four Sacred Silly Saturdays
Elemental Magic: To Amplify BIPOC Body Wisdom
Honoring the Wisdom of the Earth, Honoring the Wisdom of Our Bodies
Kira Allen
,
Kelsey Blackwell
, and
Josefina V Gabuya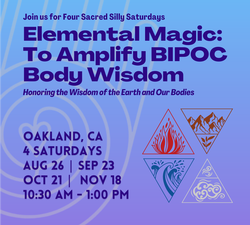 Oakland, CA
4 Saturdays - Aug 26, Sep 23, Oct 21 and Nov 18 - 10:30 am - 1:00 pm

Fire, Earth, Water, and Air. In varying degrees, this is what all of life is made of. How do they breathe and flow within you? As we begin to recognize ourselves in the elements, we're put back in touch with the deep well of embodied knowing that already resides within us. Join us to engage in practices that support you in recognizing and harnessing your elemental magic.
In this 4-part series, we will build BIPOC body wisdom by exploring the elements through movement, sound, storytelling, stillness and connection. This space welcomes all those who identify as BIPOC, whether new to embodiment practices or seasoned somatic practitioners.
Join us for 1 or all 4 Saturday sessions 10:30 am - 1:00 pm PT

FIRE 8/26/23: Fire is alchemy and transformation. It is birth, and it is death. Fire is the necessary ingredient for animating all of life. It is lifeforce itself. It is through fire that we are also able to connect with our ancestors and the unseen realms. Let us come closer to the fire that lives within and beyond. Led by Kelsey Blackwell

EARTH 9/23/23: Earth is our source of stability. When our connection to the earth is strong and clear we feel rooted in our ability to self-reflect. Grounded. Peaceful. Nurtured and abundant. During our time together (weather permitting) we will harmonize our movements, tones and stillness amongst the trees of Redwood Regional Park. Led by Kira Allen
WATER 10/21/23: The most abundant element in our individual and collective bodies; water is our greatest common denominator and essential for all life. Embracing the "entire ocean in a drop" concept, in this workshop, we'll invite an embodied exploration of our current*cy, 'wake the waters within', and honor our internal flow. Led by Zabah

AIR 11/18/23: Air brings comfort and sustains our bodies, minds and spirits. We cannot live without air. As we breathe air, we immerse ourselves in a river of peace that makes us mindful of the present moment, the here and now. Let us breathe air and be Who We Are and What We Are, each moment… Led by Jojo Gabuya
During and after class you will experience: • Deepening your connection to the elements and discovering how they live within you • Practical tools for connecting to elemental magic for more ease • Time for reflection • Opportunities to extend into and grow your community • A sense of possibility • Play, silliness, and fun

Accessibility info:

This workshop is at InterPlayce, the home of InterPlay. Yay! The space is wheelchair accessible, with all activities happening at ground level.


Cost:

$15-$60 Sliding Scale (per workshop)
Registration/Information:

Choose session and payment option, then click Pay Now button to register! We'll see you then!

Venue
InterPlayce
2273 Telegraph Avenue (at 23rd St.)
Oakland, CA 94612
InterPlayce is the center of the InterPlay universe. The offices for Body Wisdom, Inc. are also located here. The building is at the corner of 23rd and Telegraph, one block north of West Grand. It is just a few blocks from the 19th Street Downtown Oakland BART station, and on several convenient bus lines. On-street parking is always available at night and metered during the day. It is also easily accessible by several of the major freeways.
Click here for a map.
Leaders
Kira Allen
This Certified InterPlay leader is an author, collage artist, activist, advocate, and facilitator who specializes in working with Black, Indigenous, People of Color and Queer communities. She holds an M.A. in Transformative Arts from John F. Kennedy University, and a B.A. in English/Creative Writing from Mills College. Bearing witness to her own traumas and triumphs through a wide variety of modalities inspires her work with participants of all ages in: classrooms, homeless shelters, churches, non-profits and intimate circles inside people's homes. Ms. Kira cultivates sacred creative spaces invoking all her experiences to empower marginalized communities. Her poetic memoir, Write This Second, was republished in April of 2019 and can be ordered through any local independent bookstore.
Kelsey Blackwell
Kelsey Blackwell, is the author of Decolonizing the Body: Healing, Body-Centered Practices for Women of Color to Reclaim Confidence, Dignity & Self Worth (New Harbinger 2023) and a cultural somatics practitioner. As a facilitator, coach and speaker she has brought abolitionist embodied practices to such diverse groups as riders on Bay Area Rapid Transit trains to students at Stanford University to the offices of LinkedIn. She works 1:1 with clients as well as leads the 8-week group program, Decolonizing the Body. In addition to being impactful, Kelsey believes working towards personal and collective liberation must also bring joy. She lives in San Francisco, CA.
Josefina V Gabuya
An interfaith non-binary and transgender minister whose passion for balancing body, heart, and spirit has led them to use the InterPlay forms and tools in their ministry.