Change Your Life! Change Your World!
Sustaining International Sisters (SIS) Secrets of InterPlay (In-Person) 2023
Unlock the Wisdom of Your Body in the Company of Women
Ruth Schowalter
and
Wai-Chin Matsuoka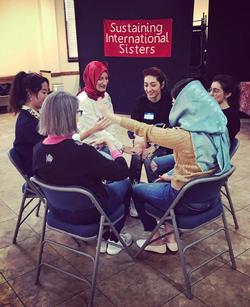 Atlanta, GA
August 18-20, 2023
Friday 6:30 pm - Sunday 1:30 pm.
Assisted by Canan Arikan

InterPlay is an active creative way to unlock your body wisdom. This face-to-face weekend is an opportunity to use InterPlay forms and ideas to connect deeply with yourself and explore who you are in these changing times from a feminine perspective.

Discover with a group of diverse women how the InterPlay tools based in movement, contact, voice, storytelling and stillness create ease, a sense of fun and new beginnings. Learn with experienced InterPlay leaders to presence all of you – body, mind, heart, and spirit. Tap into the energy, active curiosity, and healing that reside in you.

This multiple-day event will give you direct experience in many aspects of the InterPlay system. It is also an important element of the InterPlay Life Practice for Women which we will be offering in the Metro-Atlanta, GA area in three additional weekends beginning in fall of 2023. starting in Fall of 2023, as a follow up to this Secrets of InterPlay event.
Schedule (all times ET)
Friday, August 18 (6:30 – 9:30 pm)
Saturday, August 19 (9:30 am – 8:30 pm)
Sunday, August 20 (9:30 am – 1:30 pm)

Secrets of InterPlay for Women is supported by InterPlay Sustaining International Sisters (SIS), a regional 501c3 nonprofit of Body Wisdom. SIS is excited to offer the first InterPlay Life Practice Program for Women for its metro-Atlanta community of SISters and any other women wanting to join us.

Housing: Some homestays are available (contact Canan Arikan at Interplaysis@gmail.com)
Any other questions: email interplaysis@gmail.com

Covid Policy: Masks are welcome and optional. Please do an at-home Covid test before attending the gathering and do not attend if you have symptoms of illness.


Repeating the Program
Anyone who has previously completed the Secrets of InterPlay is eligible for the $350 repeaters rate.


Financial Assistance
Diversity is a great gift in the InterPlay experience. Based on our commitment to Racial Equity and Transformation (read our statement here) and our understanding of other structural and personal inequalities that exist, Body Wisdom is committed to making our programs financially accessible.

Financial considerations need not be a barrier to your participation. Financial support and flexible payment plans are available. Please email info@interplay.org or feel free to speak to one of the leaders of this program.


Continuing Education Credit
Up to 55 CE credits (15 for Secrets weekend & 40 for Life Practice follow up sessions) for various healthcare and allied healthcare professions are available for those practicing throughout the U.S. and for educators only practicing in Illinois. CE pre-registration is required before the start of your event.
Email Jane at interplaychicago@sbcglobal.net to APPLY for CEUs. There is a charge of $25-$40 per program. CEUs are offered through Continuing Education Institute of Illinois or R. Cassidy Seminars.


Cost:

$450/$350 for repeaters
Registration/Information:

Registration Questions, email: office@interplay.org. For financial assistance, email: info@interplay.org

Leaders

Ruth Schowalter

Ruth Schowalter, visionary folk artist, communications educator, and creativity coach, co-founded InterPlay Sustaining International Sisters (SIS) with Canan Arikan in 2018. In 2019, SIS began Online Global SIS to offer InterPlay to women worldwide. In 2020, InterPlay SIS became a 501c3 with the Body Wisdom Office. As a certified InterPlay Leader and Life Practice Program Leader, Ruth is dedicated to bringing together women from diverse backgrounds (geographical, cultural, spiritual, racial, educational, and generational) through play. Within InterPlay, she found the structure to connect women in ways that support them and allows them to share, learn, and inspire one another. Ruth has an M.S. in Applied Linguistics and ESL and taught international students English communication at the university level for 30 plus years, applying InterPlay to her instruction since 2012. She found that InterPlay transformed her language classroom into a community of enlivened and engaged learners. She also brings her expertise to scientists and professionals in workshops, offering them fun new ways to communicate their research and ideas in public presentations. As an artist, Ruth stays engaged in the creative process and established the The Daily Creative Practice Group a decade ago on Facebook to insure that her own art, dreams, and creative ideas get priority while supporting others creative engagement. She is in her fourth year of offering a weekly Dance Chapel through Cynthia Winton-Henry's Hidden Monastery where she leads participants to blend movement, prayer, and making marks. In 2022, Ruth co-led a monthly Ensoulment Creativity Studio with Cynthia Winton-Henry. She exhibits her visionary work both online and offline. Once called a "sophisticated primitive" artist, her colorful figurative paintings and drawings express her inner world both from dreams and psychological meanderings. She lives in Decatur with her author husband, Anthony J. Martin and two cats, Tao and Sapelo.

Wai-Chin Matsuoka

Wai-Chin is Singaporean Chinese, who was transplanted to the U.S.A. 35 years ago when she came to do her graduate studies, and met her American-Japanese husband.

She's a spiritual director who comes alive whenever there's an opportunity to midwife what's ready to be birthed. She's particularly experienced in bringing forth new life from the ashes of change and transition. Mentored and credentialed as an Ensoulment Coach, and a certified InterPlay leader, Wai-Chin loves to weave spirituality, somatic practices, soul-tending and InterPlay tools and forms into a tapestry of Love and Play. She especially enjoys shaping these tapestries into retreats, ongoing Body Wisdom Playgroup, and soul care workshops specifically for social reform activists.