Creativity, Community, Change
Secrets of InterPlay WASHINGTON DC 2023 (In-Person)
Unlock the Wisdom of Your Body
Billy Amoss
,
Kate Amoss
,
Douglass Farnum
,
Monisha Mittal
, and
Robin Carnes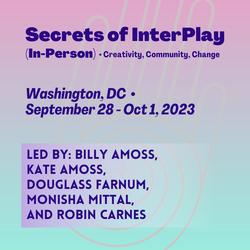 Washington, DC
September 28 - Oct 1, 2023
7pm Thursday to 5:30pm Sunday
Learn how you can use the tools and ideas of InterPlay to unlock the wisdom of your body. Get your body, mind, heart, and spirit all on the same page. Learn about yourself through connection and community. Create more ease and fun in your life.
This multiple-day event will give you direct experience in many aspects of the InterPlay system. It is also an important element of the InterPlay Life Practice Program which we will be offering in Washington, DC, starting in Fall of 2023, as a follow up to this Secrets of InterPlay event.
Schedule (all times ET)
Thursday 7pm - 9:15pm
Friday 10:00am - 5:30pm and 7pm - 9:15pm
Saturday 9:00am - 5:30pm
Sunday 2:45pm - 5:30pm


Covid Policy: We require testing prior to the event.

Inquiry for housing: Kate at katamoss@gmail.com


Repeating the Program
Anyone who has previously completed the Secrets of InterPlay is eligible for the $350 repeaters rate.


Financial Assistance
Diversity is a great gift in the InterPlay experience. Based on our commitment to Racial Equity and Transformation (read our statement here) and our understanding of other structural and personal inequalities that exist, Body Wisdom is committed to making our programs financially accessible.

Financial considerations need not be a barrier to your participation. Financial support and flexible payment plans are available. Please email info@interplay.org or feel free to speak to one of the leaders of this program.


Continuing Education Credit
Up to 55 CE credits (15 for Secrets weekend & 40 for LP follow up sessions) for various healthcare and allied healthcare professions are available for those practicing throughout the U.S. and for educators only practicing in Illinois. CE pre-registration is required before the start of your event.
Email Jane at interplaychicago@sbcglobal.net to APPLY for CEUs. There is a charge of $25-$40 per program. CEUs are offered through Continuing Education Institute of Illinois or R. Cassidy Seminars.


Cost:

$450 ($350 for repeaters) Cost included in full Life Practice Program tuition
Registration/Information:

Registration Questions, email: office@interplay.org. For financial assistance, email: info@interplay.org

Leaders

Billy Amoss

Billy is a certified InterPlay leader in the Washington, D.C. area. Together with Tom Henderson Billy has led InterPlay retreats for men for over 15 years. These retreats demonstrate to him year after year that InterPlay offers a unique set of tools for "ordinary guys to do extraordinary things." Billy is the Executive Director of the Rostropovich Foundation, a DC-based non-profit organization that finances and manages international children's health programs.

Kate Amoss

Kate Amoss, MA, LCPC, is an InterPlay Teacher and Professional Counselor in private practice. Trained in archetypal depth psychology, she has an abiding curiosity in all things hidden below surfaces -- deep roots, bedrock truths, neuro-biological processes, ancestral antecedents, and ancient cataclysms. For her, InterPlay has offered the best toolbox of forms and practices with which to excavate the mysteries of ourselves and our world. She uses applied InterPlay with clients in groups, workshops, and individually. Since 2005, she has been co-leading the InterPlay Life Practice Program in Washington DC.

Douglass Farnum

Since retiring, play deprived Douglass works hard at doing nothing. He finds that interplay feeds his inner growth and complements his meditation and Non Violent Communication (NVC) practices. After 10 years of dabbling in interplay Doug recently became an interplay leader.

Monisha Mittal

Monisha is a somatic coach and Applied Play Practioner who comes to Play as a recovering over-achiever. She has always cherished bringing out the unique expression and voice of others, secretly recognizing it as an expression of their Divine self. Inspired by the freedom, connection and laughter InterPlay has brought to her life and to those it touches, she enjoys connecting people to their Divine power and presence for greater expression and abundance in the world. Monisha is a certified Sacred Depths coach and leads the Hidden Monastery Dance Chapel every Tuesday. Contact her about tapping into your unique inner guidance through one-on-one sessions (your own Holy Play Dates!).

Robin Carnes

Robin Carnes, MBA, Certified Yoga Therapist, is a Certified InterPlay Leader. She loves weaving InterPlay forms and principles into her work with a wide range of populations. Robin is a pioneer in bringing evidence -based yoga and meditation practice into mainstream settings such as the US Department of Defense, the Veterans Administration, Manhattan College, and Blackboard, Inc. Robin trains healthcare providers in using mind-body tools in their work with patients and has lectured internationally on Mind-Body approaches to mental health and stress conditions. In addition to her work with the military, Robin has offered Yoga Rhythmics and InterPlay workshops, classes, and retreats for many years, combining music and movement to create community and cultivate self-love.