Unfold With your Life's Flow, not against it
Embodied Enquiry Playgroup
a resource supporting your unique magnifcence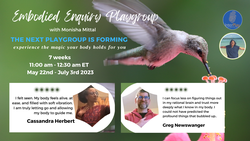 ONLINE
Sudays, 2:30 pm ET - 4:00 pm beginning May 21st - July 2nd.
This playgroup serves as a weekly resource in support of your unique mangificence, so you can flow with your life, not against it. This class is based on the belief that the Body likes to move; loves to Play; and loves serving as a a resoure to guice your exquisite unfolding. Whether you are new to embodied practice or are experienced with InterPlay, this on-line class offers you a weekly opportunity for embodied connection with the Real You in playful community.

Life has a way of throwing us in situations or challenges we don't necessarily know how to respond to. This can take a toll on our nervous system, thoughts and emotions. Is it possible to play with life's challenges? Yes it is.

Play is the key! Einstein said, "Play is the highest form of Research". Unlock the hidden potential of your body's wisdom through the transformative power of play in this 7-week InterPlay class starting May 21st.

What's Included in this Playgroup: Each week participants will play with different movement, voice and storytelling forms from InterPlay. You will move and sound as individuals, as partners and as a group. You will have intentional time to move and dance on behalf of a question or challenge with time to journal or draw. Participants also receive a bonus one-on-one session to deep dive with Monisha on a personal topic of their choice.

This small group format (no more than 6 in a playgroup) fosters the safety to be honest. You walk away with a closer relationship to your Body and with yourself. Most of all, you get to experience your Physicality as a real resource in day to day life.

We do this through the lightness of Play. With Embodied Play you are led to insights that support living, listening and communicating your truth in your day to day life with greater ease. Each class provides valuable time to journal or draw so you can synch in with your awareness and make choices for your highest good.

Allow yourself to have the frequency of Play like the hummingbird does. Rather than have worry or stress take over, let movement, sound, and storytelling lead you to develop inner play muscles and find insight to life's challenges creatively. In the process, find something new and have MORE OF YOU.

< NOTE: If interested, complete the registration by following the link below.
Cost:

$147
Registration/Information:

https://www.eventbrite.com/e/632744213977

Leaders

Monisha Mittal

Monisha is a somatic coach and Applied Play Practioner who comes to Play as a recovering over-achiever. She has always cherished bringing out the unique expression and voice of others, secretly recognizing it as an expression of their Divine self. Inspired by the freedom, connection and laughter InterPlay has brought to her life and to those it touches, she enjoys connecting people to their Divine power and presence for greater expression and abundance in the world. Monisha is a certified Sacred Depths coach and leads the Hidden Monastery Dance Chapel every Tuesday. Contact her about tapping into your unique inner guidance through one-on-one sessions (your own Holy Play Dates!).