ACCEPTING APPLICATIONS FOR JULY 2023!
InterPlay's Art and Social Change Program July 2023 - Oakland CA
An active, creative approach to unlock the wisdom of the body for our times
Agnotti Cowie
,
Soyinka Rahim
, and
Tere Heredia Zorich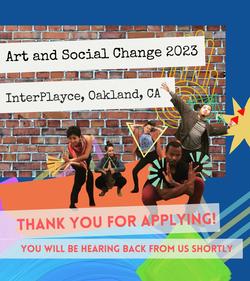 Oakland, CA
Monday, July 3 - Friday, July 14
2-week immersion
InterPlay's Art & Social Change program takes place at InterPlayce, the heart of InterPlay in Oakland, CA. Art & Social Change is a space
for Millennials & Gen Z (18-40ish).
It is a chance to gift yourself with
2 weeks of playing
with joy, grief, resilience, stillness, silliness, creativity, and the well of wisdom that resides within you at this moment. Gather with us as we reemerge for spacious connection, racial justice & equity, community healing, and collective transformation. Art & Social Change welcomes the whole of you.
What is InterPlay?
InterPlay is a practice that invites us to play with our birthright practices of movement, song, voice, storytelling, dance, and stillness to connect more deeply with our inner body wisdom and to build connection through community. InterPlay as a social movement is dedicated to ease, incrementality and human sustainability - noticing what feels good in the body and seeking to create more moments based on this knowledge.

Art & Social Change offers a chance to:
• Share and reflect on our experiences as people passionate about the intersection of art and social change
• Plug into a community that cares deeply about the world, the earth, each other, and is a true reflection of what equity means
• Explore the transformative power of play through entirely new and ancient ways of knowing, honoring ourselves and our ancestors along the way
• Tune into our innate artistic gifts, nurture our capacities, and explore what supports us most along our journey of community and social justice


How do I sign up?
Email InterPlay's Liaison to Emerging Generations, Tere Zorich at tere.interplay@gmail.com for an informational interview or additional information before June 1, 2023.


Financial Assistance
Diversity is a great gift in the InterPlay experience. Based on our commitment to Racial Equity and Transformation (read our statement here) and our understanding of other structural and personal inequalities that exist, Body Wisdom is committed to making our programs financially accessible.

Financial considerations need not be a barrier to your participation. Financial support and flexible payment plans are available. Please email Angela at info@interplay.org or feel free to speak to one of the leaders of this program.

APPLICATION PROCESS
Click HERE for APPLICATION. Send in registration materials and set up informational interview before June 1
Confirm attendance (once accepted) by June 8
Once accepted send $200 deposit by June 15
Set up a payment plan or pay in full by June 30

PROGRAM SCHEDULE
Monday through Friday July 3-14
Some evening programming including a concert by the InterPlay performing company "WING IT!"
Graduation Celebration on Thursday July 13th at 7 pm
Sending forth by noon July 14

COVID Policy
The leaders of the Art and Social Change program are committed to supporting all bodies, especially those who are at high risk when it comes to COVID-19, due to age and/or various health concerns. In order to protect the most vulnerable, we are requiring participants to be up-to-date on vaccinations (including boosters as recommended by the CDC) as well as negative test results before leaving and upon arrival in Oakland. We are also asking participants to mask while indoors at any public events during the program. Masks are optional during the program itself. Please reach out if you have questions or concerns.


Art & Social Change and Leader Training
Community building is an integral part of the InterPlay system. To experience the most out of the Art & Social Change Program, we recommend that you attend all of the sessions. This immersion program into the forms and tools of InterPlay is most effective when the group can stay together over time. If you are considering becoming an InterPlay leader, participation and attendance for the full program will be necessary to complete the entire program. The Art & Social Change Program is a Life Practice Program, which is the first step in becoming a certified InterPlay leader. If you have questions about this, please visit: InterPlay Leader Training Program.


Continuing Education Credit
Up to 55 CE credits for various healthcare and allied healthcare professions are available for those practicing throughout the U.S. and for educators only practicing in Illinois. CE pre-registration is required before the start of your event. Email Jane at interplaychicago@sbcglobal.net to APPLY for CEUs. There is a charge of $25-$40 per program. CEUs are offered through Continuing Education Institute of Illinois or R. Cassidy Seminars.


Cost:

$1400 (generous scholarships available)
Registration/Information:

Registration questions: office@interplay.org; Financial assistance: info@interplay.org

Venue
InterPlayce
2273 Telegraph Avenue (at 23rd St.)
Oakland, CA 94612
InterPlayce is the center of the InterPlay universe. The offices for Body Wisdom, Inc. are also located here. The building is at the corner of 23rd and Telegraph, one block north of West Grand. It is just a few blocks from the 19th Street Downtown Oakland BART station, and on several convenient bus lines. On-street parking is always available at night and metered during the day. It is also easily accessible by several of the major freeways.
Click here for a map.
Leaders
Agnotti Cowie
Agnotti Cowie attended the first ever "Art & Social Change: InterPlay for Millennial Leaders" in 2010. Since, she joined InterPlay's national board as well as becoming a certified InterPlay leader. For the past two years, she returned to Oakland as a facilitator of the Art and Social Change training. Agnotti facilitates workshops worldwide employing a variety of pedagogical techniques such as InterPlay, Theatre of the Oppressed, and Devising. Currently she is based in Chicago where she does workshops in schools, organizations and with social movements. Recently, she has taken her work around the globe teaching workshops in Vietnam, India, and Germany.
Soyinka Rahim
Soyinka Rahim (GSP) is a grassroots spiritual practitioner who is the founder and artistic director of
BIBOLOVE.US
 which stands for "breathe in breathe out love." She was also the founder of OurThing Performing arts company, where she created the modern-day folk dance play
An Altar Piece to Alter Peace
, a multimedia, intergenerational performance piece for peace. Her work BIBOLOVE taps into the power of sound, movement and visual art, raising the love vibration of peace, love, joy, happiness, health, grace, and ease. BIBOLOVE supports our personal and collective life challenges by feeding the love frequencies for generational, cultural, racial, body, and economic unity.  Soyinka has brought her wisdom as a spiritual director, conference weaver and workshop leader to InterPlay Certified Life practice, Facing Race, National Association for Independent Schools for Teachers of Color,   Boys and Girls Clubs, Spiritual Directors International Conference, and the Parliament of World Religions.
Tere Heredia Zorich
Tere Heredia Zorich (she/they) is an embodied artist using multi-media to expand our ways of being together, explore depictions of the feminine, and ride the present moment. They co-create spaces that consciously practice moments of grace within ourselves and each other. They came to InterPlay by way of Latin partner dance and have a deep love for bachata. Outside of dance, they teach piano, craft, make music, and practice glamour.