with a playbook for mystics, sensitives, activists and healers
Art of Ensoulment Winter Course
How to Create from Body and Soul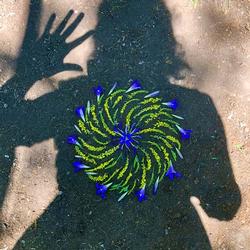 Cynthia Gatherings, ONLINE
Intro: FRIDAY, DEC, 30TH, 9-10:30 AM PT MONDAY, JAN 9TH, 2-3:30 PM PT, Zoom Workshops: Jan 11, Feb 8, Mar 8, April 12 Morning or Afternoon 10-12 pm or 30-5:30 pm
Each year, Cynthia gathers people who are curious about body and soul. She recognizes wise, playful, sensitive people who feel more, think more, notice more, suffer more, and therefore have difficulty in religious spaces.As a teacher, researcher, artist, and sensitive, her longing for a sacred community arose from a lifelong quest to live into body and soul. In the process, Co-founding InterPlay, she and Phil Porter were led to the creative birthrights of movement, voice, story, and stillness. The rich cooperative interplay of these arts illuminates her path, amplifies communication with inner and outer worlds, and allows connection to the way trees, molecules, and waves move. Gradually Cynthia uncovered twelve arts that support the playground of ensoulment. No solemn oath is needed. Only to honor each living being in their nature as part of the Dance of Life. Today these 12 wisdom practices are creating a joyful infrastructure and a body of practitioners who choose to live fully and effectively in our changing world. To learn about the contents of the course,
Cost:

Range of prices- see link
Registration/Information:

cynthiawinton-henry.com, or email cynthia@interplay.org

Leaders

Cynthia Winton-Henry

Cynthia Winton-Henry, co-founder of InterPlay with Phil Porter, has researched "what the body wants" in the arts, in jails, shelters, slums, hospitals, churches, businesses, classrooms, doctoral programs in theology and the arts, and in multicultural education. She develops somatic curriculums to address racism, leadership for the Earth, and spiritual intelligence with an eye to supporting millennials. A featured speaker on the Body Intelligence Summit and a keynoter at conferences, Cynthia is the author of

What the Body Wants, Having It All: Body, Mind, Heart & Spirit Together Again at Last; Dance - A Sacred Art: Discovering the Joy of Movement as Spiritual Practice, Chasing the Dance of Life: A Faith Journey, and The Art of Ensoulment: A Playbook on How to Create From Body and Soul.

. Check out her writing, The Dancing Center, on Substack, her Hidden Monastery Online Dance Chapels and courses for those seeking spiritual intelligence for our time at

cynthiawinton-henry.com.