In Person!
InterPlay In-Person Leaders Gathering June 2023
Come gather with us in North Carolina!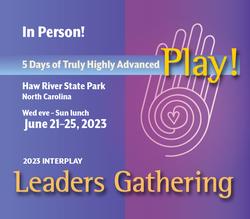 Browns Summit, NC
Wed dinner – Sunday lunch, June 21-25, 2023
It's time for the 2023 in-person Leaders Gathering! Join us for deep play in a beautiful retreat setting.

We will gather at Haw River State Park in North Carolina. The event will be limited to 50-55 people, given the size of the main meeting/play space.
Bring your own ideas for workshops
to be set up on the spot. Have a chance to organize conversations with other leaders about InterPlay issues that move you.
Get new skills
for education, spirituality, racial equity and transformation, art-making and leading your life.
Discover new forms!
Lots of opportunities to play, create, perform, connect, converse, eat and relax. And
laugh!
This event is open to all Life Practice Program and Leader Training Program grads as well as those currently taking part in either program (or who took part in earlier versions of either program).
Cost
Tuition
$450
Room & Board
(per person)
$400 Double / $500 Single
As always, singles are limited and first come, first served. We will know how many are available once everyone has registered. (Sorry - No commuter, camping or off-site accommodation options for this event.)
Please Note: Registration will close on May 30!

*You may register with a 50% deposit. ($100 is nonrefundable.)
*Room and board must be paid in full by May 15 to secure your reservation. (No refunds for room/board after May 15.)
*Balance for tuition is due by June 15.
*If you need to set up a payment plan, please contact Lucia at office@interplay.org, (510) 465-2797.
*Balances paid after June 18th will have an additional 5% processing fee added.

If you are willing to support registration costs for InterPlayers who may not otherwise be able to attend due to the persistent inequities in the world, please click this link to make a donation: Support Others to Attend!


Important Travel Information: There are several airports that you may wish to consider. Note the driving time from the closest airports to Haw River State Park.
Piedmont Triad International Airport, Greensboro, NC - Travel time 30 minutes to Haw River State Park. No shuttle buses. Transportation by Uber/Lyft/car rental.
Raleigh-Durham International Airport - Travel time 1 1/2 hours to Haw River State Park
Covid Policy
As we resume hosting in-person gatherings, we are updating our COVID safety protocols to prioritize the health and safety of all bodies, especially those who are at high risk when it comes to COVID-19, due to age and/or various health concerns. For this in-person Leader's Gathering, we kindly ask that you take a COVID test before embarking on your journey and another one upon arrival. We also strongly recommend that you wear a mask during travel, particularly if you are flying. We encourage you to take good care in order to sustain and thrive in community care. Thank you for keeping all bodies safe.
Cost:

$850 for double/$950 for single (per person)
Registration/Information:

Contact Lucia at office@interplay.org with registration questions.

Venue
Haw River State Park
339 Conference Center Dr
Browns Summit, NC 27214
Located in Guilford and Rockingham counties 15 miles north of Greensboro, Haw River State Park is a unique park that centers on The Summit, a residential environmental education and conference center, accommodating retreats and conferences for groups big or small. The park is also perfect for day-use visitors looking to explore the headwaters of the Haw River. Trails and a boardwalk offer a journey into wetlands and a floodplain swamp, where visitors may see great blue herons and a bounty of other animals.