Fun Fun Fun ! ! !
Queer InterPlay !
Come Play!
Agnotti Cowie
and
Randy Newswanger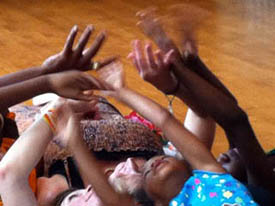 Online, ONLINE
October 25, 2022 10 a.m. Pacific, 11 a.m. Mountain, Noon Central, 1 p.m. Eastern
Queer InterPlay gathering to come play, tell stories and see where we go from here. Randy and Agnotti hope to continue this offering for Queer InterPlayers to come together to share in community.
Contact Agnotti for the zoom link: agnotti.interplay@gmial.com
Cost:

Free
Registration/Information:

Contact Agnotti for the zoom link: agnotti.interplay@gmial.com

Leaders

Agnotti Cowie

Agnotti Cowie attended the first ever "Art & Social Change: InterPlay for Millennial Leaders" in 2010. Since, she joined InterPlay's national board as well as becoming a certified InterPlay leader. For the past two years, she returned to Oakland as a facilitator of the Art and Social Change training. Agnotti facilitates workshops worldwide employing a variety of pedagogical techniques such as InterPlay, Theatre of the Oppressed, and Devising. Currently she is based in Chicago where she does workshops in schools, organizations and with social movements. Recently, she has taken her work around the globe teaching workshops in Vietnam, India, and Germany.

Randy Newswanger

Randy has degrees in physics and divinity. His experience includes teaching high school math and physics, working in philanthropy, and turning doodles into fine art prints. He desires to build just and sustainable communities, is exploring forest gardening, and tries to incorporate InterPlay philosophy as a core decision making tool in his life.