English communication PLAYshops
Want more confident, less clumsy talking? Come play with award-winning English language wizard, zoom & play expert: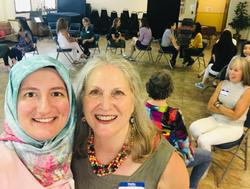 Online, ONLINE
Two Tuesdays: Oct. 25 & Nov. 8

At 2.45pm NY. 17.45 UK. 18.45 Berlin
"It isn't only an English language course. It is a life course.
Ruth teaches you how to exit your comfort zone, make mistakes, and be happier!"
– Chiara, visiting scholar from Italy
"I used to be shy and unwilling to talk to others but now I am more active and confident in the conversation – I like to laugh."
– YiFeng, visiting scholar from China
Learn tips to speak English with musicality and clarity, with your senses, emotions and physicality.
In this 75-minute workshop we play with core English language elements of volume, speed & tone: eyebrow flashing, voicing, head nods and hand gesturing.
Expect laughter, movement and more ease with language!
For:
• Learners & Teachers of English as a second language
• Anyone wanting to be more effective and expressive when speaking English
• Others may find applications for learning a new language, e.g., Dutch, Spanish, French.
Since 2012 Ruth Schowalter has taught oral communication skill workshops and courses using improvisation with community members, visiting scholars, professors, theatre students, scientists, teachers of English as a Second Language (ESL) & beginning-to-advanced international undergraduate and graduate students.
As an ESL teacher for more than 30 years, Ruth won the 2021 Georgia Institute of Technology CIOS Award. This coveted award is based on graduate student ratings of her online & face-to-face classes using InterPlay® with ESL.
From 2010-2021 she developed and taught improvisational communication and presentation courses for international professionals preparing for the 2-year Master of Business Administration program, Emory University.
Workshop host: Meg MacLeod & InterPlay Nederland
Ruth's blog about her methods:
https://interplayschowalter.blogspot.com
SIS: InterPlay Sustaining International Sisters a 501c3, co-founded by Ruth & Canan, pictured above:
https://www.sislife.org
or
https://www.instagram.com/sisinterplay/
.
Youtube:
InterPlay with Ruth Schowalter.
Cost:


Oct 11: FREE as part of International Week of InterPlay.
Nov. 14: Love offering: donations from 5 to 20 US dollars or euro's are welcome.
Registration/Information:

To receive the zoom link to join in or for more info, email megfrolic@gmail.com

Leaders

Ruth Schowalter

Ruth Schowalter, visionary folk artist, communications educator, and creativity coach, co-founded InterPlay Sustaining International Sisters (SIS) with Canan Arikan in 2018. In 2019, SIS began Online Global SIS to offer InterPlay to women worldwide. In 2020, InterPlay SIS became a 501c3 with the Body Wisdom Office. As a certified InterPlay Leader and Life Practice Program Leader, Ruth is dedicated to bringing together women from diverse backgrounds (geographical, cultural, spiritual, racial, educational, and generational) through play. Within InterPlay, she found the structure to connect women in ways that support them and allows them to share, learn, and inspire one another. Ruth has an M.S. in Applied Linguistics and ESL and taught international students English communication at the university level for 30 plus years, applying InterPlay to her instruction since 2012. She found that InterPlay transformed her language classroom into a community of enlivened and engaged learners. She also brings her expertise to scientists and professionals in workshops, offering them fun new ways to communicate their research and ideas in public presentations. As an artist, Ruth stays engaged in the creative process and established the The Daily Creative Practice Group a decade ago on Facebook to insure that her own art, dreams, and creative ideas get priority while supporting others creative engagement. She is in her fourth year of offering a weekly Dance Chapel through Cynthia Winton-Henry's Hidden Monastery where she leads participants to blend movement, prayer, and making marks. In 2022, Ruth co-led a monthly Ensoulment Creativity Studio with Cynthia Winton-Henry. She exhibits her visionary work both online and offline. Once called a "sophisticated primitive" artist, her colorful figurative paintings and drawings express her inner world both from dreams and psychological meanderings. She lives in Decatur with her author husband, Anthony J. Martin and two cats, Tao and Sapelo.