Walk (or Swim!) the Path of Less Effort
Embodying Flow: Uplevel your Receptivity
Flowing with Life from Your Inner Ease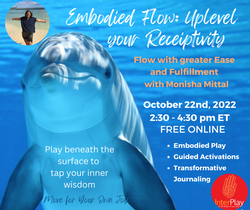 Genesee Depot, WI
Saturday, October 22nd, 2:30 pm - 4:30 pm ET
Are you tired of the feeling of efforting...the ongoing mantle of our responsibilities can feel relentess? Do you want to move towards your heart's desires? We tend to cope with "time off" to break up our hard focus. What if we could expereince our responsibilities with greater ease and more fluidity? In a way, walking the Path of Least Effort is like walking with an empty bowl which is ready to Receive on your behalf. And...Receiving is a core element of how the Universe wants to Play with us. As the dolphin in the photo knows..the Universe loves to play through call and response. Upleveling your capacity to Receive means expanding yoru ability to truly Play and co-create with the Universe and what its sending your way. When we enhance our ability to Receive, we enhance our ability to move with the flow of our life, moving towards our true desires with greater ease and joy. In this workshop, participants will creatively explore three core elements of Receiving: Allowing, Accepting and Arriving -- playing wth movement, sounds, and story to uplevel their capacity to Receive and Play with the Universe. Participants receive nourishment from pure and applied Play, a guided activatiion, and in-depth journaling prompts to take away personal insights for growth and transformation. This workshop welcomes All to the life-affirming practices of InterPlay. Held in support of the International Week of InterPlay.
Cost:

FREE
Registration/Information:

https://www.eventbrite.com/e/embodied-flow-uplevel-your-receptivity-registration-409252072967

Leaders

Monisha Mittal

Monisha is a somatic coach and Applied Play Practioner who comes to Play as a recovering over-achiever. She has always cherished bringing out the unique expression and voice of others, secretly recognizing it as an expression of their Divine self. Inspired by the freedom, connection and laughter InterPlay has brought to her life and to those it touches, she enjoys connecting people to their Divine power and presence for greater expression and abundance in the world. Monisha is a certified Sacred Depths coach and leads the Hidden Monastery Dance Chapel every Tuesday. Contact her about tapping into your unique inner guidance through one-on-one sessions (your own Holy Play Dates!).