Womb Revelations "Reclaiming Your Sacred Vessel of Creation"
Christine Gautreaux, MSW
and
Devi Wetterer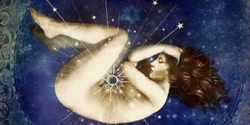 Online, ONLINE
Sunday, October 23rd, 2022 5:30 ET
Within your divine feminine landscape, you have the ability to rebirth your divine essence, design your future, and manifest your dreams into a lived experience.
When bodies experience trauma, there is often a disconnect with our authentic soul's expression and the affinity with ourselves and the outer environment. At times, we can feel disconnected, separate, have a sense of not belonging, and feel misunderstood arising from past traumas and the subsequent beliefs about ourselves that override our ability to experience our divine perfection and inherent wholeness.
During our time together we will explore our sacred feminine woundings, limiting patterns and beliefs with enduring resilience in the container of community. This workshop is designed to be an incremental step in moving from trauma-informed behaviors to being the architect of your life.
Using our ancient birthright practices of movement, storytelling, voice, and the sacred arts we will tap into our body wisdom for revelation and transformation, reclaiming the power of our sacred vessel of creation.
This free 2 hour offering is a prequel to our upcoming 6-week series that begins November 7 to December 12 - more information soon.
What to expect: -During this workshop you will identify your unconscious beliefs/stories -Discover powerful tools and techniques to restore peace, grounding, and balance -Be empowered to envision and dynamically create your dreams with optimism and passionate possibilities.
Reconnect to the powerful wisdom and potent abilities that resides within your feminine core. You are invited to deepen into your authentic wisdom, your natural instincts and own the immense potential within knowing yourself as the designer of your life.
*Artwork by Artist - Christian Schloe https://www.pinterest.com/Sonrisa0480/christian-schloe-illustrations-that-tell-surreal-s/
Cost:

FREE

Leaders

Christine Gautreaux, MSW

Christine (she/her) is dedicated to the pursuit of play, joy, art & social justice. Christine's superpowers include connecting people, helping folks manifest their dreams, standing up against injustice and using art to make a difference in the world.

She currently uses performance art, movement, poetry, storytelling and Interplay to address issues of oppression with women who are incarcerated, people living with severe and persistent mental illness and homelessness. She also works with activists and artists to maintain balance and self-care during these intense times we find ourselves living.

Pivoting with the times Christine has been called an expert on Zoom and utilizes this online platform to facilitate connection and ease in an online, interactive learning environment.

Christine Gautreaux holds a Bachelor's and Master's Degree in Social Work. She has professional experience with successful grant writing, community organizing and social media marketing. Christine is a life coach for caregivers who are burnt out and ready to take back their own life and make it delightful again. She is the co-author of Stillpoint: A Caregivers Playbook to find ease and to take a deep breath and reclaim joy.

Devi Wetterer

Devi enjoys leading and sharing her passion for InterPlay since discovering this art in 2008. She completed the Life Practice Program at InterPlayce in Oakland and Leaders Training in 2009. Since her return to the Midwest, Devi organizes InterPlay Untensives/ Life Practice Program as well as leads weekly/monthly playgroups for adults, intergeneration, youth and disabilities in Missouri and Kansas. She also practices Physical Therapy at a variety of clinical settings and is on the Board of Kutumba, a non-profit organization for the Arts and Self Awareness serving youth and the Next Generation. Devi considers InterPlay as meditation in motion which allows participants to connect more deeply with their body, soul and heart moving from the inside out. Play is where I find beauty and grace. Life is a Dance. Learning to blend the myriad experiences of life with acceptance and grace allows you to move forward with greater ease and rewarding results. This is the artistry and gift of InterPlay.