A BIPOC centered space with assistance from the InterPlay RET Grant
Ancestor Prayers of Blood and Bone + Dia de los Muertos Celebration
BIPOC Healing with and for all our relations
Marla Durden
and
Maria Garcia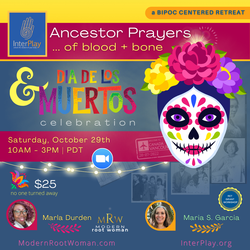 Online, ONLINE
SATURDAY, October 29th, 10AM-3PM | PDT
Many have lost their connection to the vital thread of life that links us to the wisdom of the Ancestors and the incredible power, beauty and dignity this connection brings. With all that is going on in the world, now more than ever, we need the revitalizing connection to the wisdom of our Ancestors for healing, direction and comfort.
In this BIPOC ONLY Retreat, will incorporate InterPlay, shamanic journeys and indigenous practices to honor our Ancestors and acknowledge their struggles and gifts. Then we will embody their best qualities and make our own commitments to honor their legacy, becoming good Ancestors ourselves. Remembering our essential connection to Nature, and each other, we will share the Soul nourishing stories of our Ancestors and reflect on how they give us strength and resilience, in a circle of belonging.
Our intention is that you leave with a greater embodied connection to that which nourishes and feeds your Soul; and with tools to help you to access this wisdom + comfort anytime.
Connect with + remember the gifts of your Ancestors.
Embody your innate power and beauty.
Give voice to your Ancestral wisdom.
Dance on behalf of your Kin + celebrate all Life.
Financial support for this project has been provided by the Racial Equity and Transformation (RET) Mini Grant through InterPlay.
PERSONAL INVESTMENT: $25
The financial support from the RET Mini Grant through InterPlay enables us to offer this price to any Black, Indigenous and People of Color on a first-come-first-serve basis. No one turned away.
REGISTER at Modern Root Woman
REGISTER + INFO HERE
Cost:

$25
Registration/Information:

Contact Marla at 206/414-9009 or email: ModernRootWoman@gmail.com

Leaders

Marla Durden

Marla came to InterPlay at the end of 2016 and has never stopped playing. She immediately began performing and was certified as a leader in May 2021. Marla is an alchemist, artist, energy shaman and coach who uses her gifts to create experiences that support personal empowerment, healing and transformation.