Experience the Heart of the InterPlay system
InterPlay Body Wisdom Tools Online 2022
Sharie Bowman
and
Hazel Lobo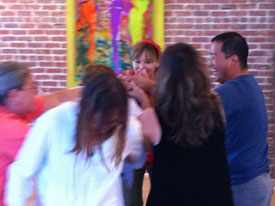 Online, ONLINE
8 Wednesdays
starting October 5, 2022
9:00-11:00 am Pacific Time in the U.S.
8:30-10:30 pm IST in India

Explore the eight
Body Wisdom Tools
of the InterPlay system!
Discover their potential to help you
unlock the wisdom of your body,
lead a richer, fuller life, and foster ease, creativity and community.
Experience the power of connection
through time and space as you play from your own location with an online community.
Dive into the InterPlay tools
that lead to ease of movement, voice, story, stillness and connection.
Meeting dates: Oct 5, 12, 19 & 26; Nov 2, 9, 16 & 30
(We will be skipping Nov. 23, the day before Thanksgiving.)
This course is an element of the
Self-Paced Life Practice Program
and is designed for people who need more flexibility to complete the components of the Life Practice Program. If you enroll in this course, the cost will be applied to the tuition for the whole Life Practice Program.
This course can also serve as a refresher if you have previously participated in the Life Practice Program or a Secrets of InterPlay and want to play with the Body Wisdom Tools of InterPlay in a fresh new way. You may take this course as a stand-alone experience.
Cost:

$400 ($300 for Life Practice Program grads)
Registration/Information:

Registration Questions: email office@interplay.org. For financial assistance: email info@interplay.org.

Leaders

Sharie Bowman

Sharie Bowman, MA, LMHC is a Mental Health Counselor and also InterPlay's Regional Coordinator for the Pacific Northwest.  In 2006, Sharie completed her training as an InterPlay leader and also received her degree in mental health counseling, so InterPlay and counseling have been woven together in her bodyspirit from the start.  She finds InterPlay to be foundational in building and maintaining her personal resilience, as well supporting her work with clients.  In her private practice she regularly weaves InterPlay's life-enhancing forms and philosophies with counseling wisdom to help individuals and families thrive.

Prior to 2006, Sharie worked as a high school math teacher and found InterPlay to be the best Teacher Training she ever received.  The improvisational skills that she developed immediately brought more play, creativity, and expression to her teaching as well as to classroom management.

Now Sharie finds great joy in bringing her organizational and instructional skills to the InterPlay classroom, and she often leads the foundational InterPlay Life Practice Program and mentors new leaders. She relishes sharing the joy of InterPlay far and wide, and supporting each participant in integrating InterPlay into their own lives!

Hazel Lobo

Hazel is an artist, activist whose passion is to create safe and nourishing spaces. PLAY continues to be an integral part in her work on gender, sexuality and restorative justice. Playing with communities at the margins in India have continued to give her the courage to show up and lead play in different spaces and context with the common desire to belong to community.