BIPOC RETREAT: a BIPOC centered space where we celebrate our Ancestors + each other
Cosmic InterPlay: A BIPOC Family ReUnion
Come for connection, renewal, celebration and play!
Kira Allen
,
Ade Anifowose
,
Masankho Banda
,
Coke Tani
,
Marla Durden
,
Janice Eng
,
Wai-Chin Matsuoka
,
Theresa Cunningham
,
Monisha Mittal
,
Maria Garcia
,
Leah Mann
, and
Carolyn Renée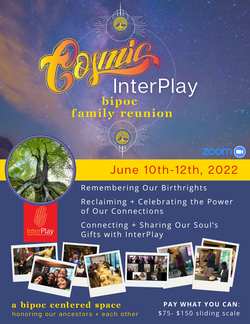 ONLINE
Friday, June 10 - Sunday, June 12, 2022
Hey BIPOC InterPlay Fam!
You are cordially invited to join us for a Cosmic InterPlay BIPOC Family ReUnion!
Join us for a weekend of play, story, learning and connection as we celebrate our birthright practices, ancestors and each other.
We'll start by remembering our birthrights; continue by reclaiming & celebrating the power of our connections; and complete by connecting & sharing our Soul's gifts with InterPlay.
And, expect some of the usual fun things we enjoy at a family reunion… stories of the good ole' days and wisdom-sharing from our elders; Saturday night party w/ talent show, sharing of recipes… for delicious food, InterPlay, a happy life + more.
Grab your BIPOC InterPlay friends, bring your favorite dish and join us for some truly cosmic play, connection + BIPOC family love.
Remembering Our Birthrights w/Theresa Cunningham + Monisha Mittal
Reclaiming + Celebrating the Power of Our Connections w/ Leah Mann + Carolyn Renèe
Connecting + Sharing Our Soul's Gifts with InterPlay w/ Darius Burroughs, Wai-Chin Matsuoka + Maria Garcia
GATHERING INCLUDES:
Guided InterPlay Sessions
Group Focus Sessions
Daily Trauma/Emotion Monitors
Elder's Table and Wisdom Sharing
Honoring of the Ancestors + each other
WORKSHOPS + open space
Dinner Party w/ show + tell
Talent Show + Celebration
PLUS MORE TO COME!
Take a look at the tentative schedule here...
Retreat Directors:
Marla Durden + Kira Allen
Registration/Payment
The payment button will also get you registered.
Pay What You Can: $75 - $150
*scholarships + payment plans available. Email Marla for options.
Cost:

$75-$150 sliding scal / No one turned away for lack of funds
Registration/Information:

Body Wisdom (510/465-2797) or info@interplay.org

Leaders

Kira Allen

This Certified InterPlay leader is an author, collage artist, activist, advocate, and facilitator who specializes in working with Black, Indigenous, People of Color and Queer communities. She holds an M.A. in Transformative Arts from John F. Kennedy University, and a B.A. in English/Creative Writing from Mills College. Bearing witness to her own traumas and triumphs through a wide variety of modalities inspires her work with participants of all ages in: classrooms, homeless shelters, churches, non-profits and intimate circles inside people's homes. Ms. Kira cultivates sacred creative spaces invoking all her experiences to empower marginalized communities. Her poetic memoir, Write This Second, was republished in April of 2019 and can be ordered through any local independent bookstore.

Ade Anifowose

Ade is a Certified InterPlay Leader, Mindset Coach. Intuitive Healer and Podcaster. For over 25 years, Ade has devoted his life to being both a student and teacher of ancient wisdom. He is known for his optimism and ability to put people at ease while tapping into the inner wisdom of the soul. His unique approach opens the minds of his clients so they can more easily and effectively approach life head-on and find the help and answers they seek.

Ade is a lover of humanity who is passionate about creating outstanding new and unique gifts of healing for the world. Grounded in universal principles and healing arts, he uses his podcast, interactive playshops, storytelling, the arts, sacred drumming, and social media, to supports people in shifting their consciousness. Ade has a deep passion for helping people to connect with their unique sense of self and is dedicated to inspiring people to live from the confidence of their truest self.

Masankho Banda

Masankho is a multi - disciplinary Performing Artist, Certified InterPlay Leader, Educator and PeaceBuilder. He brings many unique perspectives to his work around the world. He learned the fine arts of storytelling and dance from his Malawian culture spending many long days and nights listening to stories and dancing to music that captivated his mind, shaped his being, nourished his soul and strengthened his spirit. Using performing arts Masankho motivates and inspires people of all ages to work together to bring about peace, social justice and cultural understanding. In 1997, he started UCanDanc—African Healing Arts to bring his passion for dance and storytelling to communities around the world. Masankho has been a Certified InterPlay Leader since 1999.

Masankho can also be reached at these phone numbers: +265 99 255 5338 or 88 113 8655 (available on Whatsapp / FaceTime)

Also: Skype : kamsisi
Facebook / Twitter: storytelling4u

Coke Tani

Coke Tani, is a movement and literary artist, spiritual companion, and teacher/facilitator. In addition to having co-led the Secrets of InterPlay & Life Practice Program, Coke served as InterPlay's first Liaison to Leaders of Color, where she introduced the expansion of InterPlay forms for embodied anti-racism education, and co-created InterPlay's first BIPOC Daylong Retreat. Currently, Coke leads InterPlay in communities of color and faith-based settings, as well as in 1:1 focus sessions, She serves on InterPlay's Racial Equity and Transformation Committee, and also leads weekly Dance Chapels through The Hidden Monastery. In former years, Coke was a community-based therapist and solo theater artist. She holds an MSW, MFA and MDiv.

Marla Durden

Marla came to InterPlay at the end of 2016 and has never stopped playing. She immediately began performing and was certified as a leader in May 2021. Marla is an alchemist, artist, energy shaman and coach who uses her gifts to create experiences that support personal empowerment, healing and transformation.

Janice Eng

Janice has been a massage therapist for over 30 years and teaches Nonviolent Communication in the community as well as in prisons for over 20 years. She facilitates restorative circles in organizations and is in school to work with addictions. She has a passion for racial equity and transformation and is currently part of the Interplay Racial Equity Team. When she found Interplay she saw it as a fun and unique way to access our body intelligence, to become more embodied, and to have just plain have fun and deeper connection with others.

Wai-Chin Matsuoka

Wai-Chin is Singaporean Chinese, who was transplanted to the U.S.A. 35 years ago when she came to do her graduate studies, and met her American-Japanese husband.

She encountered InterPlay in 2012 when Cathy Ann Beaty was moderating the Spiritual Directors International Conference. Totally amazed by the impact of a hand-blessing, Wai-Chin found Jane Siarny in Geneva, IL and was attending classes on and off for several years before taking the Secrets retreat and the Life Practice program in 2018. And even before the end of the Life Practice program, attended the Secrets of Leading in Oct 2018, and completed her requirements in Oct 2020!

She describes herself as a manifestation of Divine Love, and she embodies
Hospitality that welcomes all,
Gentleness that comforts,
Truth that heals and
Compassion that equips, in her life and in service of those who cross her path.

As a spiritual midwife, she companions others on their spiritual path of transformation. As a dancing healer, she facilitates healing through experiential encounters with the Divine Physician and dances on behalf of their wounds and grief, and desires and hopes for wholeness. As a lavish host to the Divine Banquet of Love, Wai-Chin facilitates Soul-Tending Retreats that awaken your desire for deeper intimacy with God, in the same way hors d'oeures whet the appetite for a banquet.

Theresa Cunningham

Theresa Cunningham is an award-winning actor, singer, dancer, director, and teaching artist who does math for fun. She incorporates InterPlay when working with her kids in private lessons and as Associate Artistic Director of Ovations Theatre. A Certified Interplay Leader, she believes in the power of play as a tool for exploration, healing, and community.

Monisha Mittal

Monisha is a mystic, a writer and recovering over-achiever. For the last 2 years she has been leading Divine Revelations Dance Chapel under Cynthia Winton-Hentry's Hidden Monastery Chapel. Early in her career, working in rural India and north Philadelphia, she noticed her joy at helping women and children find their individual expression and voice. More than twenty years later, InterPlay came running to meet her when she left her full-time corporate job. Inspired by the freedom, connection and laughter InterPlay has brought to her life and to those it touches, she enjoys connecting people to their Divine power and presence for greater expression and abundance in the world. Monisha is a certified Sacred Depths coach and leads the Hidden Monastery Dance Chapel every Tuesday. Contact her about experiencing your own Holy Play Dates.

Leah Mann

Previously the artistic director of the urban outreach program, Moving in the Spirit

, Leah Mann now co-directs Lelavision Physical Music

. With her partner Ela Lamblin, she tours internationally, performing a hybrid genre combining kinetic music inventions animated through music and dance in simultaneity. She teaches movement, rhythm and instrument making from ordinary objects with a wide variety of populations from a base of improvisation informed primarily by the InterPlay technique.

Carolyn Renée

Carolyn Renée Morris (she/her) is a teaching and healing artist with more than a decade of service/experience in the creative and healing arts. She's the former executive director of the ArtsXchange, a 37-year-old art and social change organization, and Alternate ROOTS, a 44-year-old social justice organization lifting up art as activism in the Southeast USA. Carolyn Renée is committed to the pursuit of art and social justice, health, and well-being for BIPOC on the frontlines of advancing justice. She is a certified InterPlay Leader and in 2008 became a health and wellness practitioner to heal herself from an illness which led to combining the healing and creative arts. With InterPlay, she creates Sacred Space for BIPOC and partners with USA/Ghana-based A Life of Peace Wellness Education Institute to ensure every home has an engaged artist/healer. She goes by "Carolyn Renée."