CHANGE YOUR LIFE ~ CHANGE YOUR PRACTICE
Self-Paced InterPlay Life Practice Program
Move through the program at your own pace
Sharie Bowman
,
CC King
,
Lisa Laing
, and
Trish Watts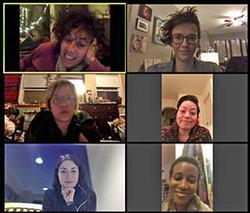 Online, ONLINE
Program timing flexible
The InterPlay Life Practice Program is an active, creative way to
change your life and change your world.
Immerse yourself in the system of InterPlay
ideas and practices that can move you from where you are to where you would like to be.
Find freedom
through movement, story, sound, and stillness, and discover creative ways to change what you want to change in your life.
Shape your life
in ways that are best for you, using this supportive, affirming program
Receive individual attention
from your program mentor to help identify your personal and professional desires and intentions.
The Self-Paced Life Practice Program gives you the flexibility to
put the program components together at your own pace,
with the guidance of a Life Practice Program Mentor.
You may be able to
apply previous InterPlay coursework
to this program.
Although some previous experience with InterPlay is encouraged, there are
no prerequisites
for taking part in the InterPlay Life Practice Program.
The Elements of the Self-Paced Life Practice Program

• 55 total contact hours
• Multi-day event, such as the Secrets of InterPlay (15-20 hours)
• Deep dive into the 8 tools and basic forms of InterPlay (16 hours)
Online Tools Class begins June 6 (in North or South America) or June 7 (in Asia or Australia)
• Three focus sessions with your Life Practice Program mentor
• Complete the reading/writing/reflections found in the Secrets of InterPlay booklet
• Complete the InterPlay 8 Core Elements Self-Study
• Previously completed equivalent programs are accepted.

For more information on the Life Practice Program in general click here.
Financial Assistance
Diversity is a great gift in the InterPlay experience. Based on our commitment to Racial Equity and Transformation (read our statement here) and our understanding of other structural and personal inequalities that exist, Body Wisdom is committed to making our programs financially accessible.

Financial considerations need not be a barrier to your participation. Financial support and flexible payment plans are available. Please email Angela at info@interplay.org (or call 510/465-2797), or feel free to speak to one of the leaders of this program.


Self-Paced Life Practice Program Attendance
Community building is an integral part of the InterPlay system. To experience the most out of any Life Practice Program, we recommend that you attend all of the sessions. If you are considering becoming an InterPlay leader, completing the reading/writing and the 8 Core Element Self-Study and participating in a full 55 hours of the program will be necessary to complete this Life Practice Program, which is the first step in becoming a certified InterPlay leader. If you have questions about this please visit: InterPlay Leader Training Program.


Continuing Education Credit
Up to 55 CE credits for various healthcare and allied healthcare professions are available for those practicing throughout the U.S. and for educators only practicing in Illinois. CE pre-registration is required before the start of your event. Email Jane Siarny at interplaychicago@sbcglobal.net to APPLY for CEUs. There is a charge of $25-$40 per program. CEUs are offered through Continuing Education Institute of Illinois or R. Cassidy Seminars.

Wondering if this program is for you? Please contact Life Practice Coordinator Jane Siarny at interplaychicago@sbcglobal.net or 630/715-8590


Cost:

(Save $300 while Online) $1,950/$1,000 for repeaters
Registration/Information:

Registration Questions: office@interplay.org. For financial assistance: info@interplay.org.