Playing with our own meaning and connections
Moving Midrash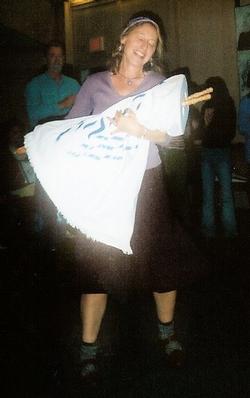 ONLINE
4th Thursdays • 10-11:30 am Pacific • June 23, July 28, August 25, 2022
The mystics say that Torah ( Five Books of Moses, Hebrew Bible, "Elder" Testament) is made of black fire on white fire, words and spaces. Midrash are the stories we find in the empty spaces. Using  InterPlay's  simple, incremental forms of sacred play, we'll begin in text,  find and express and play with our own meaning and connections. Using voice, movement, story, stillness, and a bissel silliness, we'll tell and witness each other's stories, and learn ways to encourage and cultivate personal midrash and Torah-based narrative. No previous experience necessary! Open to all.
Cost:

First session is free!
Registration/Information:

RSVP to Cassandra at cassandra@ukemama.com for Zoom link

Leaders

Cassandra Sagan

Cassandra Sagan is a long time InterPlayer leader and Maggid--Jewish storyteller/teacher/preacher.She is a poet, singer/songwriter, visual artist, performer, and all around Cultural Creative. Cassandra is an arts educator who has worked with adults and children for over 30 years helping them to access their full creative brilliance. Shehas led Moving Midrash programs internationally and used InterPlay to train Jewish Educators to develop story-based curriculum and create classroom cultures grounded in an ethic of play.