Celebrating culture and tradition in an InterPlay way
InterPlay Jewish Space
Cassandra Sagan
and
Barbra Wiener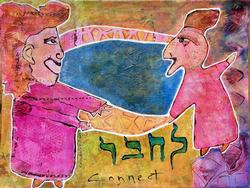 ONLINE
2nd Fridays • 9:30-11 am PT • May 13, June 10, July 8, plus a final session July 29
Join long-time InterPlay leaders Cassandra Sagan and Barbra Wiener on a series of second Fridays for an opportunity to gather with experienced and new InterPlayers.
Together you'll connect with the ancestors, sing your recipes and laments, kvetch in made up languages, share stories, longings, prayers, jokes and dreams. The group will create a structure for a performance/presentation during the (zoom) Leader's Gathering August 3-7, 2022.
Cost:

Free!
Registration/Information:

RSVP to Cassandra at cassandra@ukemama.com for Zoom link

Leaders

Cassandra Sagan

Cassandra Sagan is a long time InterPlayer leader and Maggid--Jewish storyteller/teacher/preacher.She is a poet, singer/songwriter, visual artist, performer, and all around Cultural Creative. Cassandra is an arts educator who has worked with adults and children for over 30 years helping them to access their full creative brilliance. Shehas led Moving Midrash programs internationally and used InterPlay to train Jewish Educators to develop story-based curriculum and create classroom cultures grounded in an ethic of play.

Barbra Wiener

Barbra Wiener is an InterPlay leader in Minnesota. She has been involved with InterpPlay for 20 years and leads classes and playgroups in her beloved Twin Cities community. Barbra is a proud InterPlay board member She is visiting faculty leading InterPlay annually at HEART, an intensive immersion in integrative medicine for medical students. She has been involved with many forms of health and wellness throughout her career. She has an MA degree in human development, has worked as a Child Life Specialist at Children's Hospital, had a therapeutic massage practice, was the founder and director of the Women's Cancer Resource Center in Minneapolis and is a health and social justice activist. InterPlay allows her to combine all her passions in helping unlock the creative power within each body and within the group body of communities large and small.