Become a certified InterPlay leader
Secrets of Leading InterPlay FEBRUARY 24-27, 2022 Online
InterPlay Leader Training Program
Kate Amoss
,
Coke Tani
, and
Ginny Going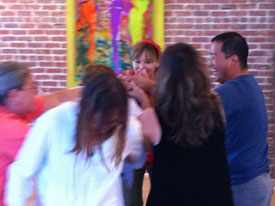 Online, ONLINE
Thursday, February 24 at 11 am ET thru
Sunday, February 27, 2022 at 2:00 pm ET
The Secrets of Leading InterPlay is a multi-day workshop and a core component of the InterPlay Leader Training Program that leads to becoming a certified InterPlay leader. It is open to those who (1) have completed, or are in the process of completing, the InterPlay Life Practice Program, and (2) have enrolled in the InterPlay Leader Training Program.
The Secrets of Leading provides an overview of the InterPlay system and covers the underlying structure and philosophy of InterPlay:
~How are the forms taught? How do they work together?
~What is the ultimate outcome or effect of using InterPlay forms?
~How do you decide which forms to use at what times?
~How do you deal with people you find challenging?
The workshop includes presentation, interaction, and play.
Schedule
Thursday, Friday, Saturday:
11 am – 1:15 pm & 2:30 – 4:30 pm ET
Sunday: 11 am - 2 pm ET
Attendance
The Secrets of Leading is an integral part of the InterPlay Leader Training Program. We ask that participants commit to and make arrangements for attending all sessions of this four-day event. We understand that unexpected life events can happen to prevent full participation. If this should occur, participants will be expected to listen to recordings of the sessions missed.
Diversity is a great gift in the InterPlay experience. Based on our commitment to Racial Equity and Transformation
(read our statement here)
and our understanding of other structural and personal inequalities that exist, Body Wisdom is committed to making our programs financially accessible. Financial considerations need not be a barrier to your participation. Financial support and flexible payment plans are available. To apply for financial assistance, email info@interplay.org.
Repeating the Program
Previously certified leaders (regardless of the version of the program you went through) receive a special reduced tuition rate. The current program has new information and resources that will enhance your teaching. If you have not taught much InterPlay or have not taught recently, you may appreciate this way of bringing your skills up to date.
Tuition for previously certified leaders is $800 for the full program, which includes the Secrets of Leading, the Teaching Practicum, the Mentored Teaching component and a copy of the
InterPlay Core Element Self-Study
. Tuition for either the Secrets of Leading InterPlay or the Teaching Practicum is $300. Cost of doing the Mentored Teaching component is $300.
Cost:

$300 for Secrets of Leading plus $100 to enroll in Leader Training Program (Previously certified leaders $300)
Registration/Information:

To register, use the 'Buy now' button above. For financial assistance, email Angela at info@interplay.org.

Leaders

Kate Amoss

Kate Amoss, MA, LCPC, is an InterPlay Master Teacher and Professional Counselor in private practice. Trained in archetypal depth psychology, she has an abiding curiosity in all things hidden below surfaces -- deep roots, bedrock truths, neuro-biological processes, ancestral antecedents, and ancient cataclysms. For her, InterPlay has offered the best toolbox of forms and practices with which to excavate the mysteries of ourselves and our world. She uses applied InterPlay with clients in groups, workshops, and individually. Since 2005, she has been co-leading the InterPlay Life Practice Program in Washington DC.

Coke Tani

Coke Tani, is a movement and literary artist, spiritual companion, and teacher/facilitator. In addition to having co-led the Secrets of InterPlay & Life Practice Program, Coke served as InterPlay's first Liaison to Leaders of Color, where she introduced the expansion of InterPlay forms for embodied anti-racism education, and co-created InterPlay's first BIPOC Daylong Retreat. Currently, Coke leads InterPlay in communities of color and faith-based settings, as well as in 1:1 focus sessions, She serves on InterPlay's Racial Equity and Transformation Committee, and also leads weekly Dance Chapels through The Hidden Monastery. In former years, Coke was a community-based therapist and solo theater artist. She holds an MSW, MFA and MDiv.

Ginny Going

As a recovering serious person, I consider InterPlay my 12-step program and my life practice for having more ease and grace. I've been InterPlaying for 27 years and have watched the blooming and spread of InterPlay all over the world with gratefulness and delight.

For the past 13 years I've been immersed in the development and growth of the Leader Training Program and currently serve as the program coordinator. I love offering people the "big body" tools of InterPlay for telling their stories, especially people on the margins of our communities. I am also passionate about embodied spirituality, engaging people in prayer and worship forms that include and honor the body. It has been an amazing experience to participate in and teach InterPlay in many places around the world.

Currently the Leader Training Program is being reshaped to integrate Racial Equity and Transformation into all aspects of InterPlay leader training. This is truly an exciting and exhilerating time to be part of the world-wide community of InterPlay!