A Monthly Movement, Art, Writing Retreat
Ensouled Creativity Studio
Explore the Wisdom of Body and Soul
Ruth Schowalter
and
Cynthia Winton-Henry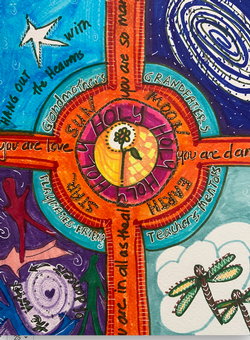 ONLINE
3rd Mondays 2:30 to 4:15 pm pacific starting January 17 -Dec 19, 2022
Give yourself a monthly retreat with prompts for movement, drawing and writing. Then, drop into some side by side silent play to explore the theme. Enjoy your prefered medium. Ruth offers support as needed. We end with time to share, notice, and bless the offerings.
We will play with monthly themes from Cynthia Winton-Henry's Art of Ensoulment Course. Anyone can join this great intro to the 12 arts of ensoulment.
Link here to see the 12 arts..
We write a haiku, pencil a sketch, a dream, a sensation.
We shake and stretch and breathe and are
Mostly still.
Allowing this to be our ebbs and flows,
Tender nurturance and uplifting confidence.
Building on the edge of being.
Sustained without stops.
Feeling the push and pull, the desire to
Throw it,
Get lost in it,
Run or
Shove it away.
Being alive in what I thought were empty gaps.
Kay Rhode, Art of Ensoulment Course Participant.
Cost:

25-40 sliding scale