Moving toward racial equity
"My Grandmother's Hands": An InterPlay Racial Healing Series
Based on the book by Resmaa Menakem
Ade Anifowose
,
Foluke Beveridge
,
Jennifer Denning
,
Janice Eng
,
Christine Gautreaux, MSW
,
Joan Greenwood
, and
Katie Hymans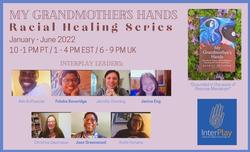 ONLINE
Saturdays, Jan 22, Feb 26, Mar 26, Apr 23, May 21, June 25, 2022 • 10 am – 1 pm PT / 1–4 pm EST / 6–9 pm UK
BIPOC InterPlayers and White InterPlayers who have completed Waking Up White or other racial justice explorations
are invited to join us in a six-month InterPlay exploration of
My Grandmother's Hands
by Resmaa Menakem.
My Grandmother's Hands deepens the movement toward racial equity by bringing deep awareness of how racism is embodied and by offering practices to move through racialized trauma.
Menakem recognizes that racism affects all bodies, although the impact is certainly not the same or equal.
My Grandmother's Hands explicitly lays out embodied practices for White bodies and BIPOC bodies, as well as practices that can be engaged in together. Participants will need to have a copy of the book.
Join body-wise racial justice InterPlay leaders Ade Anifowose, Foluke Beveridge, Janice Eng, Joan Greenwood, Jennifer Denning, Christine Gautreaux and Katie Hymans to both explore the book and collectively engage in embodied practices to move us toward collective healing.
We will spend time in two separate affinity groups, as well as in a multiracial group body.
Dates - Saturdays: January 22, February 26, March 26, April 23, May 21, June 25, 2022.
Cost: We are offering a sliding scale in the interest of equity. See below if you have questions about the different payment levels.
$250 Pay what you can $500 Pay the program cost $750 Pay for yourself and a partial scholarship $1000 Pay for yourself and someone else Thanks to funding from RET Mini-Grants,
partial and full scholarships are available for BIPOC participants, as needed
. Contact
info@interplay.org
to request scholarship funds.
Our intention is to have an
equal number of White and BIPOC participants
, which could mean that not everyone who registers will be able to participate this time. If that happens, we will process a refund for you and be sure to invite you to register early the next time we offer this.
All spaces for White participants are currently filled. Please email office@interplay.org if you'd like to be added to the waiting list.
Each participant will need a copy of the book My Grandmother's Hands: Racialized Trauma and the Pathway to Mending Our Hearts and Bodies by Resmaa Menakem MSW LICSW SEP, Cary Hite, et al.
Contact the InterPlay office at info@interplay.org or office@interplay.org to arrange a payment plan, if needed.
Consider investing in the Program Cost price if you…
- Are able to miss work either for sickness or leisure and are still able to pay next month's bills
- Have daily reliable transportation
- Are able to repay your student loans, are in repayment or have paid off your student loans
- Are without dependents
- Have employer health insurance and/or other employer benefits
- Travel when needed Consider investing less if you…
- Have significant debt
- Are supporting children or have other dependents
- Have medical expenses not covered by insurance
- Are eligible for public assistance
- Have immigration-related expenses
- Are an elder with limited financial support
- Are an unpaid community organizer
- Are a returning citizen who has been denied work due to incarceration history
- Experience discrimination in hiring or pay level
- Are descended from enslaved people or Native Americans
Consider investing more if you…
- Own the home you live in
- Have investments, retirement accounts, or inherited money
- Travel for recreation
- Have access to family money & resources in times of need
- Work part-time or are unemployed by choice
- Have a relatively high degree of earning power due to level of education (or gender and racial privilege, class background, etc.)

Cost:

Sliding Scale $250-$1000
Registration/Information:

Registrations now closed; contact the InterPlay office to arrange payment or for more info