INTERPLAY Sustaining International Sisters
SISter's Room Playshop #1: Empowerment
Guest playshop leader is Christine Ristaino!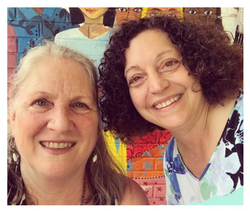 ONLINE
On Friday, September 24th, 4:00 to 5:30 PM EST
On Friday, September 24th, 4:00 to 5:30 PM, join SIS for a special playshop, "Empowerment," for enriching women's sense of power in their daily lives.
Guest playshop leader is Christine Ristaino (see her info below), co-facilititating with InterPlay Leader and SIS co-founder Ruth Schowalter. The first of three playshops explores our own sense of efficacy in expressing our needs, leading others, and expanding our influence in the different arenas of our lives, both personally and professionally.
Christine Ristaino is an author, human rights advocate, and educator. A Senior Lecturer at Emory University in Atlanta, Georgia, she teaches Italian classes to undergraduates. Christine first attended InterPlay in 2015 and now attends Sustaining International Sisters (SIS) when her busy schedule permits. As a child of Italian descent, Christine spent a lot of time sitting on her grandmother's lap surrounded by women who were sharing stories, recipes, and deep and powerful truths. As a result, Christine feels particularly at home amongst the courageous, empowered women of SIS as they confide stories and experiences around their shared humanity as women. Particularly important to Christine, SIS allows this survivor of violence to practice the connectedness of body, heart, and mind.
This playshop is the first of three empowerment workshops for SIS in collaboration with Certified InterPlay Leader Ruth Schowalter. To read more about Christine go to the SIS website: https://www.sislife.org/co-facilitators

Zoom link: https://us02web.zoom.us/j/4045802392
Cost:

FREE! (Donations accepted $5 - $15) PayPal at interplaysis@gmail.com Funds provided from Give InterPlay Day, Spring 2021.
Registration/Information:

Canan 404-966-2014, arikancnn@gmail.com, or Ruth 404-580-2392, ruthtruth@mindspring.com

Leaders

Ruth Schowalter

Ruth Schowalter, visionary folk artist, communications educator and creativity coach, started The Daily Creative Practice to insure that her own art, dreams, and creative ideas get priority. Within InterPlay, an improvisational system that unlocks the wisdom of the body, she found all the tools she needed to put grace and an ethic of play at the center of life.