For those who have attended a Secrets of Leading InterPlay
Teaching Practicum December 2-5, 2021 Online
InterPlay Leader Training Program
Jennifer Denning
,
Carolyn Renée
, and
Foluke Beveridge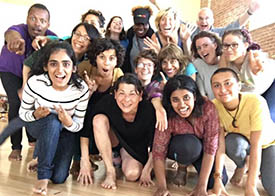 Online, ONLINE
Thursday, December 2 at 2:30, 2021 ET to
Sunday, December 5, 2021 at 1:30 pm ET
The InterPlay Teaching Practicum is a core component of the InterPlay Leader Training Program. It is open to those who have enrolled in the Leader Training Program and attended a Secrets of Leading InterPlay event. Previously certified InterPlay leaders may also attend.
The Practicum is a multi-day workshop that includes practice teaching by participants with self-evaluation and feedback from leaders and other participants, information on best practices in designing and leading InterPlay events, and teaching resources such as sample class outlines.
Note: After attending a Secrets of Leading and before attending a Teaching Practicum, participants complete 12 of the Self Study Core Elements and record their completion on the InterPlay website Leaders Circle form. Access to the Leaders Circle is provided after the Secrets of Leading InterPlay. For questions about this requirement, contact Ginny Going, Leader Training Program coordinator, at ginny.going@gmail.com.
STARTS Thursday, December 2 at 11 am ET and ends Sunday, December 5 at 4:30 pm ET
Schedule
Thursday, Friday, Saturday, Sunday 11 am – 1 pm & 2:30 – 4:30 pm ET
Continuing Education Credit
13 CE credits for various healthcare and allied healthcare professions are available for those practicing throughout the U.S. and for educators only practicing in Illinois. CE pre-registration is required at least 2 weeks before the start of your event. Notify the Body Wisdom office (510) 465-2797 at the time of registration that you are requesting CEUs. A fee of $25 per program will be due at the time you register. CEUs are offered through Continuing Education Institute of Illinois.
The Teaching Practicum is included in the tuition for the Leader Training Program. A payment of $300 toward the total tuition is due before the Practicum and a payment plan for the balance needs to be in place. The payment button below includes options for paying the balance of the Program or you may contact Lucia@interplay.org to set up a payment plan.
The tuition for repeating the Practicum or for previously certified leaders is $300.
Cost:

A payment of $300 and a payment plan for the balance of the Leader Training Program are due before the Practicum.
Registration/Information:

Registration Questions: email Lucia@interplay.org. For financial assistance: email Phil@interplay.org.

Leaders

Jennifer Denning

Jennifer is keenly interested in using the InterPlay forms to promote racial justice and healing and collaborates in developing and leading the worskhops Sankofa Communities and Using Body Wisdom to Build Just Communities. She directs InterPlay Atlanta's performance group, Soulprint Players. She launched InterPlay Atlanta's programming with women in prison and teaches regularly at Trinity House and The Friendship Center. Jennifer has also worked as a professional actor and currently teaches and directs with Synchronicity Theatre's "Playmaking For Girls" program. Her work has long centered on the intersection of creativity and spirituality. Jennifer serves on the Body Wisdom Board of Directors and InterPlay's Racial Equity and Transformation committee.

Carolyn Renée

Carolyn Renée Morris (she/her) is a teaching and healing artist with more than a decade of service/experience in the creative and healing arts. She's the former executive director of the ArtsXchange, a 37-year-old art and social change organization, and Alternate ROOTS, a 44-year-old social justice organization lifting up art as activism in the Southeast USA. Carolyn Renée is committed to the pursuit of art and social justice, health, and well-being for BIPOC on the frontlines of advancing justice. She is a certified InterPlay Leader and in 2008 became a health and wellness practitioner to heal herself from an illness which led to combining the healing and creative arts. With InterPlay, she creates Sacred Space for BIPOC and partners with USA/Ghana-based A Life of Peace Wellness Education Institute to ensure every home has an engaged artist/healer. She goes by "Carolyn Renée."

Foluke Beveridge

Foluke Beveridge is a certified K-12 educator, literacy advocate, amateur self-worth practitioner-scholar, performing artist, and dog lover in Atlanta. She is also an InterPlay Leader, drawn to the practice through its invitation to trust her inner authority and the wisdom of her body. She plans to continue using InterPlay for her own well-being in addition to helping other beings (particularly young people) discover and explore that kind of freedom for themselves.