For those who have attended a Secrets of Leading InterPlay
Teaching Practicum Online December 1-5, 2021 Online
InterPlay Leader Training Program
Jennifer Denning
and
Carolyn Renée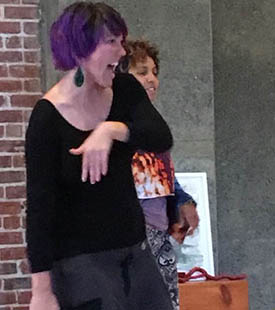 Online, ONLINE
Thursday, December 1 at 11 am. 2021 to
Sunday, December 5, 2021 at 4:30 pm ET
The InterPlay Teaching Practicum is a core component of the InterPlay Leader Training Program. It is open to those who have enrolled in the Leader Training Program and attended a Secrets of Leading InterPlay event. Previously certified InterPlay leaders may also attend.
The Practicum is a multi-day workshop that includes practice teaching by participants with self-evaluation and feedback from leaders and other participants, information on best practices in designing and leading InterPlay events, and teaching resources such as sample class outlines.
Note: After attending a Secrets of Leading and before attending a Teaching Practicum, participants complete 12 of the Self Study Core Elements and record their completion on the InterPlay website Leaders Circle form. Access to the Leaders Circle is provided after the Secrets of Leading InterPlay. For questions about this requirement, contact Ginny Going, Leader Training Program coordinator, at ginny.going@gmail.com.
STARTS Thursday, December 1 at 11 am ET and ends Sunday, December 5 at 4:30 pm ET
Schedule
Thursday, Friday, Saturday, Sunday 11 am – 1 pm & 2:30 – 4:30 pm ET
Continuing Education Credit
13 CE credits for various healthcare and allied healthcare professions are available for those practicing throughout the U.S. and for educators only practicing in Illinois. CE pre-registration is required at least 2 weeks before the start of your event. Notify the Body Wisdom office (510) 465-2797 at the time of registration that you are requesting CEUs. A fee of $25 per program will be due at the time you register. CEUs are offered through Continuing Education Institute of Illinois.
The Teaching Practicum is included in the tuition for the Leader Training Program. A payment of $300 toward the total tuition is due before the Practicum and a payment plan for the balance needs to be in place. The payment button below includes options for paying the balance of the Program or you may contact Lucia@interplay.org to set up a payment plan.
The tuition for repeating the Practicum or for previously certified leaders is $300.
Cost:

A payment of $300 and a payment plan for the balance of the Leader Training Program are due before the Practicum.
Registration/Information:

Registration Questions: email Lucia@interplay.org. For financial assistance: email Phil@interplay.org.

Leaders

Jennifer Denning

Jennifer is keenly interested in using the InterPlay forms to promote racial justice and healing and collaborates in developing and leading the worskhops Sankofa Communities and Using Body Wisdom to Build Just Communities. She directs InterPlay Atlanta's performance group, Soulprint Players. She launched InterPlay Atlanta's programming with women in prison and teaches regularly at Trinity House and The Friendship Center. Jennifer has also worked as a professional actor and currently teaches and directs with Synchronicity Theatre's "Playmaking For Girls" program. Her work has long centered on the intersection of creativity and spirituality. Jennifer serves on the Body Wisdom Board of Directors and InterPlay's Racial Equity and Transformation committee.

Carolyn Renée

Carolyn Renée is a teaching and performing artist, InterPlay Leader, organizer and administrator. She serves humanity as an organizer, teaching artist and InterPlay Leader. Since 2006 she has been a teaching artist with Synchronicity Theatre's "Playmaking For Girls" (PFG) program that empowers incarcerated girls, refugees, and young women in foster care through play-writing, storytelling, and theater performances. Carolyn Renée has written two plays, one of which she received funding from Atlanta Mayor's Office of Cultural Affairs. In InterPlay, an organization that is committed to using the art of InterPlay; an art-based system to tap into the wisdom of the body and promote well-being, she has produced community showcases, taught homeless men and women, and organized racial equity and transformation workshops. She serves as a Co-Liaison Leader to InterPlay Leaders and People of Color. In May 2017, Carolyn Renée served as the lead organizer for the national InterPlay organization's first ever People of Color Retreat. She solidified her art and activist roots in her former roles as Arts Program Director with the Mississippi Arts Commission, and Executive Director of Alternate ROOTS, a nonprofit art and social change organization for artists-activists. For a decade her work with Alternate ROOTS, and the Mississippi Arts Commission afforded her the opportunity to work closely with social change artists, art producers and presenters; the nonprofit arts community, and a myriad of arts organizations throughout the southeast United States and the District of Columbia. Serving in an organizing role she helped create undoing racism workshops, mini-festivals, learning exchanges, retreats, showcases and conferences. In September 2018, she served as advisor to the Atlanta venue of the 50,000 Lions of Justice Festival in support of youth performers for more than 50,000 youth audience participants in nine states throughout the USA. Carolyn Renée believes the work of community organizing is like riding a bicycle, or swimming—once you know how you just never forget how to create superb opportunities for connection. She uses "Carolyn Renée" as her full name.