Come spend some time, share stories, ask questions
Celebrating Cynthia
Co-director and co-founder Cynthia Winton-Henry shifts her leadership role.
Phil Porter
and
Cynthia Winton-Henry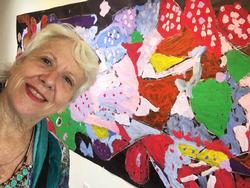 Cynthia Gatherings, ONLINE
Wed Apr 28 at 10 am PT • Tue June 8 at 4 pm PT • Fri June 25 at 4:30 pm PT • 2021
After thirty+ years of not only birthing, shaping, and creating, but also administering, promoting, fundraising, and planning, Cynthia will officially end her time as co-director of Body Wisdom, Inc. on August 1, 2021, at the end of this year's online Leaders Gathering.
The board and staff have been preparing for this transition for a number of years—shifting responsibilities and setting up new structures. As her presence on the board and in program development comes to a close, Cynthia sees herself graduating into a new role as a wisdom sharer in the wider circle of the InterPlay community. (Phil will be making a similar transition in March of 2023.)
Here is an FAQ to answer some of the questions you might have about Cynthia's shift.
We celebrate and honor the body wisdom that guided Cynthia to co-create InterPlay and tend to it for so long. Our lives have been deeply enriched by the InterPlay system. We also recognize and celebrate Cynthia's body wisdom in knowing it is time to make this transition. Please join us in bestowing our gratitude and blessings on her as she steps through the "hoop" into her next journey. An official celebration will take place during the Leaders Gathering.
We are also setting aside three dates for InterPlayers to gather online with Cynthia to field questions, share stories, and celebrate her long commitment to InterPlay:
Wednesday, April 29, 2021 at 10 am PT, 11 am MT, noon CT, 1 pm ET
Tuesday, June 8 at 4 pm PT, 5 pm MT, 6 pm CT, 7 pm ET
Friday, June 25 at 4:30 pm PT, 5:30 pm MT, 6:30 pm CT, 7:30 pm ET
RSVP here to let us know which gathering you can attend...
During this time you will have a chance to:
• hear from Cynthia and Phil about the wisdom of creating and sustaining the InterPlay movement with body-wise generosity and how they have been passing on their responsibilities over time
• tell your own stories about Cynthia and what InterPlay means to you and hear from others 
• ask questions and learn more about Cynthia's role after August
• find out how to make Cynthia's remaining wish come true—support for InterPlay in Education
Read more about InterPlay in Education: The Cynthia Winton-Henry Fund
Make a contribution to the InterPlay in Education Fund.
Here is the Zoom link for all three gatherings: https://us02web.zoom.us/j/84985489410
We hope you will join us in honoring Cynthia over the next few months!
Cost:

Free!
Registration/Information:

Use the link above to RSVP.

Leaders

Phil Porter

Phil is one of the founders of InterPlay. He is a teacher, performer, writer, and organizer. With Cynthia Winton-Henry he is the co-founder of WING IT! Performance Ensemble, and has written several books, some in collaboration with Cynthia, including Having It All: Body, Mind, Heart & Spirit Together Again at Last and The Slightly Mad Rantings of a Body Intellectual Part One. Phil is particularly interested in the use of InterPlay in organizational life, and believes that InterPlay can be a powerful tool to create communities of diversity and peace.

Cynthia Winton-Henry

Cynthia Winton-Henry, co-founder of InterPlay with Phil Porter, has researched "what the body wants" in the arts, in jails, shelters, slums, hospitals, churches, businesses, classrooms, doctoral programs in theology and the arts, and in multicultural education. She develops somatic curriculums to address racism, leadership for the Earth, and spiritual intelligence with an eye to supporting millennials. A featured speaker on the Body Intelligence Summit and a keynoter at conferences, Cynthia is the author of What the Body Wants, Having It All: Body, Mind, Heart & Spirit Together Again at Last; Dance - A Sacred Art: Discovering the Joy of Movement as Spiritual Practice; and Chasing the Dance of Life: A Faith Journey. Currently writing on Body Wisdom and Social Justice and on "Ensoulment," she coaches leaders seeking spiritual intelligence for our time at cynthiawinton-henry.com.