INTERPLAY LEADERS CIRCLE MEMBERS ONLY
Learn to Lead Focus Sessions
For use in coaching, art, supervision, mentoring, spiritual direction and peer support
Soyinka Rahim
and
Cynthia Winton-Henry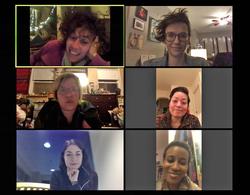 ONLINE
Saturday, June 12, 2021 • 9:30 am -– 4:30 pm PT (12:30–7:30 pm ET)
Many say that the InterPlay focus session is the most transformative part of their InterPlay journey. Focus sessions offer a unique way to play with something with the undivided attention of a facilitator. Just 30 minutes in length, they may or may not include the power of being witnessed by an affirming community.
This workshop is open to members of the InterPlay Leaders Circle.
In this approach, we focus on creating, not healing. We release expectation of working on our hard stuff—we trust the person to choose what they want to focus on. The time can be spent exploring current questions or concerns, building a skill, sharing pride in being good at something, gently nurturing oneself, or resting. Our body wisdom is our guide.
In this one-day workshop, InterPlay co-founder Cynthia Winton-Henry will introduce the elegant, down-to-earth focus session process that incorporates InterPlay movement, storytelling, and sound-making forms. Then we notice. In the workshop we will practice being an affirming witness and consider how to suggest forms. InterPlay leader and Grassroots Spiritual Advisor Soyinka Rahim will share experiences of using the focus session form in the BIPOC Loving Container.
You will have an opportunity to guide a participant, notice the different needs and styles of focus sessions, and consider ways your body wisdom can be useful in affirming others.
Use the payment button below for registration and payment.
Cost:

$75–95 sliding scale. Scholarships available.
Registration/Information:

Use the payment button above for registration and payment. Email cynthia@interplay.org for info.

Leaders

Soyinka Rahim

Soyinka Rahim (GSP) is a grassroots spiritual practitioner who is the founder and artistic director of

BIBOLOVE.US

 which stands for "breathe in breathe out love." She was also the founder of OurThing Performing arts company, where she created the modern-day folk dance play

An Altar Piece to Alter Peace

, a multimedia, intergenerational performance piece for peace. Her work BIBOLOVE taps into the power of sound, movement and visual art, raising the love vibration of peace, love, joy, happiness, health, grace, and ease. BIBOLOVE supports our personal and collective life challenges by feeding the love frequencies for generational, cultural, racial, body, and economic unity.  Soyinka has brought her wisdom as a spiritual director, conference weaver and workshop leader to InterPlay Certified Life practice, Facing Race, National Association for Independent Schools for Teachers of Color,   Boys and Girls Clubs, Spiritual Directors International Conference, and the Parliament of World Religions.

Cynthia Winton-Henry

Cynthia Winton-Henry, co-founder of InterPlay with Phil Porter, has researched "what the body wants" in the arts, in jails, shelters, slums, hospitals, churches, businesses, classrooms, doctoral programs in theology and the arts, and in multicultural education. She develops somatic curriculums to address racism, leadership for the Earth, and spiritual intelligence with an eye to supporting millennials. A featured speaker on the Body Intelligence Summit and a keynoter at conferences, Cynthia is the author of What the Body Wants, Having It All: Body, Mind, Heart & Spirit Together Again at Last; Dance - A Sacred Art: Discovering the Joy of Movement as Spiritual Practice; and Chasing the Dance of Life: A Faith Journey. Currently writing on Body Wisdom and Social Justice and on "Ensoulment," she coaches leaders seeking spiritual intelligence for our time at cynthiawinton-henry.com.