Reimagine Your Life!
The Radical Act of Underdoing.
DC Monthly Play Group
Kate Amoss
,
Robin Carnes
, and
Monisha Mittal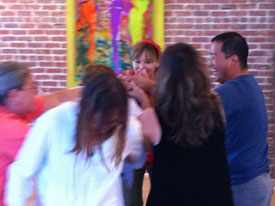 ONLINE
Saturday, 6 February, 2021 from 10am to 12pm
Nature rests in winter. Flora and fauna slow down, and some even hibernate. Conserving energy is part of the cycle of life, but many of us human animals seem to ignore this vital piece.
Many of us were raised with the adage that the most successful people show up and give 110% in every endeavor, that working harder and doing more is the key to fulfillment. When we look around we see many exhausted people still feeling like there has to be more.
But what if.....our guiding principle was UNDERDOING? What if we were content with a B minus? What would we undertake if we approached it with ease? How would life in our bodies feel ? Our hearts? Would we have more fun?
In this workshop we will explore the radical art of UNDERDOING using the Interplay principles and forms. Join us!
Cost:

Love Offering: $10 suggested -- PayPal link will be provided.
Registration/Information:

Kate Amoss - katamoss@gmail.com

Leaders

Kate Amoss

Kate Amoss, MA, LCPC, is an InterPlay Master Teacher and Professional Counselor in private practice. Trained in archetypal depth psychology, she has an abiding curiosity in all things hidden below surfaces -- deep roots, bedrock truths, neuro-biological processes, ancestral antecedents, and ancient cataclysms. For her, InterPlay has offered the best toolbox of forms and practices with which to excavate the mysteries of ourselves and our world. She uses applied InterPlay with clients in groups, workshops, and individually. Since 2005, she has been co-leading the InterPlay Life Practice Program in Washington DC.

Robin Carnes

Robin Carnes, MBA, Certified Yoga Therapist, is a Certified InterPlay Leader. She loves weaving InterPlay forms and principles into her work with a wide range of populations. Robin is a pioneer in bringing evidence -based yoga and meditation practice into mainstream settings such as the US Department of Defense, the Veterans Administration, Manhattan College, and Blackboard, Inc. Robin trains healthcare providers in using mind-body tools in their work with patients and has lectured internationally on Mind-Body approaches to mental health and stress conditions. In addition to her work with the military, Robin has offered Yoga Rhythmics and InterPlay workshops, classes, and retreats for many years, combining music and movement to create community and cultivate self-love.

Monisha Mittal

Monisha is a mystic, a writer and recovering over-achiever. Early in her career, working in rural India and north Philadelphia, she found joy helping women and children find their individual expression and voice. More than twenty years later, InterPlay came running to meet her when she left her full-time corporate job. Inspired by the freedom, connection and laughter InterPlay brings to those it touches, she supports creative writing, personal awareness and growth, and spiritual connection with InterPlay. Monisha is a certified Sacred Depths coach and leads the Hidden Monastery Dance Chapel every Friday.