with Anita Bondi and Leah Mann
Pivot
Embodied Processes for Change
Anita Bondi
and
Leah Mann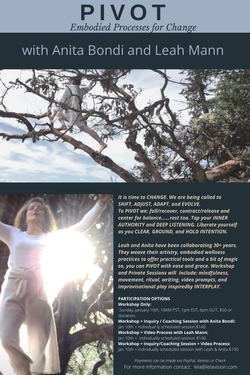 ONLINE
MAIN WORKSHOP: Sunday, January 10th ,10 AM - 2 PM PST with lunch break. Options for add on Inquiry and Video Sessions (See poster)
It is time to CHANGE. We are being called to SHIFT, ADJUST, ADAPT, and EVOLVE. To PIVOT we: fall / recover, contract/ release and center for balance.....rest too. Tap you INNER AUTHORITY and DEEP LISTENING. Liberate yourself as you CLEAR, GROUND and HOLD INTENTION. Leah and Anita have been collaborating for 30 plus years. They weave their artistry, embodied wellness practices to offer PRACTICAL TOOLS and a bit of MAGIC so you can PIVOT with ease and grace. Workshop and private sessions will include movement, ritual, writing, video prompts, and improvisational play inspired by INTERPLAY
Cost:

$50, $140 or $190
Registration/Information:

Contact: lela@lelavision.com for more info

Leaders

Anita Bondi

Anita discovered InterPlay during her senior year at East Stroudsburg University in 1986. Almost a decade later, when her dance injuries threatened to end her movement career, she came back to improvisation and became a certified InterPlay leader. It saved her life and that is the truth! It has opened up doors and windows that she would have never seen. All of this has led her to the creation of The InterPlay Inspiration Deck. The deck was released in 2009 and consists of 22 of the principles and practices of InterPlay brought to life with stories, colors and symbols. It is a great tool for seasoned InterPlayers, as well as an easy , delightful introduction to InterPlay for anyone else! http://www.anitabondidesigns.com

Leah Mann

Previously the artistic director of the urban outreach program, Moving in the Spirit

, Leah Mann now co-directs Lelavision Physical Music

. With her partner Ela Lamblin, she tours internationally, performing a hybrid genre combining kinetic music inventions animated through music and dance in simultaneity. She teaches movement, rhythm and instrument making from ordinary objects with a wide variety of populations from a base of improvisation informed primarily by the InterPlay technique.