Dreaming in a Dying World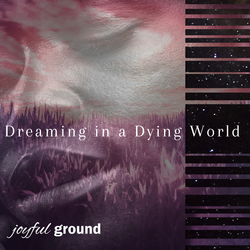 ONLINE
Sundays for 5 weeks Oct 25 - Nov 22, 12cst-2:30cst
Dreaming in a Dying World is a 5 class series in which we will collectively reframe both death and dreaming.
With the elections coming up the world is bound to invite us into panic, stress and anxiety. The spectrum of these feelings in this time is somewhat inevitable. Whatever way the elections unfold we cannot hide that the world that we knew is falling apart, a kind of dying.
This version of Dreaming in a Dying World will be a brave space that will be held, intentionally through the turmoil of the elections. Together we will ride the energy of this moment by engaging our perceptions of death directly. Death as transformation, collective grieving rituals, the power of the earth to guide us as we help the old world die within our own bodies and as a cultural collective.
This will be an emergent space which means that the class will take shape depending on who is there and what arises in the moment. In five classes, we might find that we simply need to hold each other as we grieve how everything around us continues to move into the unknown. Or maybe there will be the capacity to birth something new, something fresh. A new world.
Joyful Ground creates special learning and transformative containers that include:

-music, laughter and joy
-collectively creating values and agreements
-caucusing in groups whenever needed to help encourage visibility, vulnerability, and bravery
-allowing time for reflection and dialogue within the group.
-keeping the container flexible and emergent as the needs of each group are revealed.
All of Joyful Ground's courses engage the body as a source of wisdom and transformation. We create spaces where participants are guided to listen to and trust the sensations and intuitions of the body to gain wisdom, and to reconnect to each other and to nature. We invite you to experience this process with us as someone who is ready to reveal and take action on the personal and cultural ways that transformation is imperative in this very moment in history. This class is open to the general public so we ask that you register with an understanding of the intersectionalities of harmful systems of oppression and your role in them. We ask that you understand the need for cultural groups to caucus together within the larger collective. And that you have an interest for reconnecting to the planet through the restoration of multicultural land based wisdoms in cultural gatherings, pedagogies and in the bare bones of our practical lives.
Scholarships Available
There are regular and BIPOC scholarships available for this class and youth 16-24 can take the class for free.
APPLY FOR A BIPOC or regular SCHOLARSHIP HERE..
(BIPOC scholarships awarded by Interplay Grant!)
Format
The format of Dreaming in a Dying World includes recorded talks that are sent out to participants weekly. Classes are 2.5 hours on Sundays and will focus on embodied practices together as a group. We encourage everyone to attend in person on Sundays to get the most benefit from the live sessions, however if you need to miss a session, they will be recorded and sent to the class.

Week 1: Values and Guidelines, Introductions, Presenting the View
Week 2: Personal Dying and Dreaming
Week 3: Cultural Shift
Week 4: Dreaming of a New Society
Week 5: Creating Community - Coming Together
Testimonials
"Dreaming in a dying world is an experience for all who are ready to grow into the new earth." -May Santiago, Dreaming in a Dying World Participant
"This class reminded me that dreaming is my birthright and no circumstance, pandemic, or anything should move me away from that. I realized that I was having so much struggle dreaming because I wasn't letting go and embracing the necessary aspect of dying and the wonder of the liminal space as a part of the circle of being. I am so grateful for the time and look forward to taking the class again." -Chelsea Yarborough, Dreaming in a Dying World Participant.
"For me, Dreaming in a Dying World was the process of careful cracking the shell of numbness that had begun to encircle and separate me from the world. Aarti and Sojourner coaxed and eased our class towards expansiveness with the emphasis they placed upon movement and embodiment. Simultaneously, they gracefully steered us away from the dangers of being stuck in the stagnant intellect and the hollowness of debate. Sojourner and Aarti are highly skilled and playful facilitators. I believe that if you give yourself over to the gift of their class you will be transformed." -Jessica Palmert, Dreaming in a Dying World Participant
"I didn't know what to expect from this class. I chose it because of the title; it spoke to what I was suffering. And the class was wonderful. It helped me find many ways into the moment, into myself, and into community. I felt so much better after each class, and that came from a new opening, and it has not gone away. Thank you!" -Christina Graves, Dreaming in a Dying World Participant
Register!
Register on the Joyful Ground Website
Cost:

$200, Scholarships Available
Registration/Information:

info@joyfulground.com

Leaders

Aarti Tejuja

Aarti Tejuja (she/her) is a meditation, contemplative art teacher. She is a group facilitator skilled in holding space using the methods of art of hosting, interplay, and peace circles. Aarti is a community organizer, youth mentor and advocate for those impacted by the current justice system.

Aarti graduated from DePaul University with an MS in Technology Project Management. She worked in the IT/Finance Industry for over ten years, including 6 years at the Chicago Mercantile Exchange. After completing a one month meditation retreat in 2008 with Shambhala, Aarti left the corporate world and went to work for Shambhala for ten years. During this time, she trained as a mindfulness meditation instructor, interplay instructor, art of hosting facilitator and circle keeper.

Aarti co-created three self-care mindfulness conferences with multiple non-profit organizations working to end violence in Chicago. She developed several mindfulness and team building trainings for non-profits and youth in schools throughout Chicagoland. Aarti serves as a youth mentor and advocate for those who are disadvantaged by the current system. Aarti also has experience training organizations to work with racial, gender and age bias.

Aarti has personally witnessed how the magic of creativity and movement, the power of meditation and the art of holding space has transformed the lives of so many people and hopes to bring the same tools into the workplace.

Aarti lives in Berwyn, IL with her partner Matt and their 3 kitties, Mochi, Buttercup and Fiona.