White Awake Affinity Space:Speaking Up and Calling In OUR OWN (and Checking Ourselves)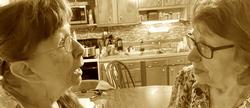 ONLINE
Sunday, June 26, 2022 2:00 p.m. - 3:30p.m.
Cost:

20.00
Registration/Information:

Contact Karen Hatch at 757/350-5202 or bongowania@gmail.com

Leaders

Karen Hatch

Karen identifies as both a "free agent" and healing justice advocate and wants to play with everyone! With a background in hospice nursing and youth ministry she is dedicated to being present to the unbelievable beauty of being human in all people across the lifespan. She is particularly committed to racial equity and transformation and is an activist, facilitator, community organizer and student at home in rural Virginia and beyond. Karen is a Certified InterPlay leader and singer/songwriter.