Re-charge your BodySpirit and professional self, while connecting with colleagues for fun, support, and sharing through movement, story, and song!
The Playfully Nourished Bodyworker
Play on Zoom with other massage and bodywork professionals through the use of InterPlay tools!
Áine deDanaan
and
Judith Reichsman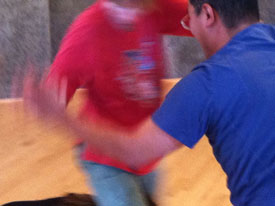 ONLINE
Every other Friday, starting September 25th 12:30pm-2:00pm eastern time
You are invited to join your massage and bodywork colleagues for a Zoom-based group to enrich your professional work, feed your spirit, and nourish your mind through play-filled, thoughtful and restorative exploration.
• play together
• enrich professionally and personally together
• share your vision of building a stronger community
• embrace embodiment beyond bodywork
• deepen connection together
What these Zoom gatherings will include:
• Creative and expressive activities to build our connection with each other
• Sharing personal and professional stories through words and movement
• Supported reflection on deepening topics, such as:
• The highs and lows of self-employment
• Building inclusive and diversity-sensitive wellness practices
• The riches and necessities of radical self-care
and so much more!
As well as topics that emerge from the group's interests
~~~~~~~~~~~~~~~~~~~~~~~~~~~~~~~~~~~~~~~~~~~~~~~~~~~~~~~
Financial Offering Options (per class)
$0-5 — Delight: we delight in your presence, honoring that current circumstances make payment a challenge for you.
$10-15 — Gratitude: we are grateful for your participation and we thank you!
$20-25 — Support: thank you for your support of further development of this program
$30-35 — Sponsor: thank you for your support and sponsoring others with reduced access to financial resources.
~OR~
Package options:
$90 for 10 classes (Gratitude)
$185 for 10 classes (Support)
$280 for 10 classes (Sponsor)
~~~~~~~~~~~~~~~~~~~~~~~~~~~~~~~~~~~~~~~~~~~~~~~~~~~~~~~~~~~
About the leaders
Áine deDanaan and Judith Reichsman are bodyworkers and InterPlay Leaders with a passion for deepening connection with others, exploring the inner-workings of the heart and the wisdom of the body. We believe that embodied play invites a deep level of intelligence that is nourishing for humans as individuals and restorative for our wider communities.
As InterPlay leaders with a combined 50 years of experience, we are creating this twice-monthly program to support the bodywork community in its work as healers, re-generators, and selfless givers for the greater wellness of our communities.
Cost:

Financial offerings: $0-35 or package pricing available. Full info in the event description.
Registration/Information:

ainededanaan13@gmail.com or 603/283-8816

Leaders

Áine deDanaan

Áine deDanaan is a certified InterPlay Leader who has been participating in, leading, and working with InterPlay since 2000. She is a wise bodyworker who blends ancient Traditional Chinese Medicine with her own BodyWisdom into her highly skilled bodywork techniques. Áine received her Master's of Divinity from Pacific School of Religion, Berkeley, CA in 2003 where she studied dance & creative arts as tools for transformation and worship, spirituality, dream work, and theology. Áine believes in making meaningful connections with all of the people with whom she works. She brings a multitude of skills, as informed by her life experiences and education, to her bodywork and InterPlay teaching.

Judith Reichsman

Judith Reichsman met InterPlay co-creators Cynthia and Phil at an InterPlay workshop in Berkeley, CA in 1989. She became an 'ecstatic follower' within a week of being introduced to it. She moved to Berkeley to go to Grad school where Cynthia was teaching so that she could to do more InterPlay and learn to teach it. Years later, she moved to North Carolina in order to do more InterPlay, and after 3 years of performing with interPlay NC's OFF THE DEEP END, moved back to Vermont to find 'InterPlaymates' there. She has Masters degrees in Dance and Theology and loves both leading and following, fullness & stillness, writing and playing.