Join folks who completed the InterPlay Waking Up White Series & are committed to racial equity and transformation within ourselves & the world.
White Awake Affinity Space
Agnotti Cowie
,
Jennifer Denning
,
Daniel Dilliplane
,
Christine Gautreaux, MSW
,
Karen Hatch
,
Katie Hymans
,
CC King
,
Lisa Ward
,
Gretchen Wegner
, and
Cynthia Winton-Henry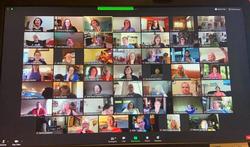 Online, ONLINE
2nd Thursday of the Month - 4:00-5:15pm PST; 4th Sunday of the Month - 1:00-2:15pm PST.
White affinity spaces are for white people to come together to figure out how to dismantle white supremacy within ourselves and our communities.

There will be different facilitators bi-monthly who will share some of their learnings about white fragility, white guilt, and how centuries of historical racism are bubbling up to the surface now due to the continued horrific killings of Black people.

Come here with your questions and concerns, so we do not burden our BIPOC (Black, Indigenous, People of Color) friends with ANYTHING.

This will also be a time to move, share stories, and use your voice in your authentic way.

We will work on physically letting go of what doesn't serve the whole community and calling in what is asked of us from our BIPOC community.

Once you sign up using the Buy Now button below, the zoom link will be emailed to you before the start of class.

No one turned away for lack of funds - email the co-leader of the upcoming session for the zoom link. This info can be found on the InterPlay Facebook Event listing.

(50% of your payment will go to the Racial Equity and Transformation Mini-Grants Fund)


Cost:

$20 per session; more if you can/less if you can't (50% will go to the Racial Equity and Transformation Mini-Grants Fund)
Registration/Information:

You can Register by using the Buy Now button on this page

Venue
Online
Online, ONLINE
This will be an online event which could originate from anywhere in the world and would be open to anyone around the world.