Pandemic Pancake Play
flip stress to resilience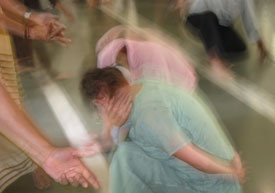 ONLINE
Alternate Thursdays 10-11:30am Eastern time. November 5, 19 and December 3, 19
Traumatic and volatile times call for creative play and community. Come slip into your breath; claim your movement, stories and song as we transform our fears & find connection and purpose with resilience and fun. Get Restored! No special skills; just your body and a willingness to try stuff out.
Please register at the link or email me directly for access.
Cost:

$35 for series; $15 each -- if cost prohibits, email me!
Registration/Information:

Register: https://theumbrellaarts.org/class/pandemic-pancakes-flipping-stress-resilience-home-session-i

Leaders

CC King

CC King is a certified InterPlay Leader and trainer, Boston-area coordinator and a memory play specialist. She has been practicing the joyous unfolding of Interplay for almost 20 years. CC is an expressive therapist, visual artist, teacher and community activist. As the co-founder of a local arts and environment program, she facilitates workshops in organic sculpture and organizes public performance. Play with elders and Memory Cafes are a special interest, as are cancer support and racial healing & transformation. Her background includes nonprofit management, art and family therapy, trauma-informed InterPlay and a life-long commitment to finding sustenance, creative activism, and joy in the natural world.