Delving
Diving in... and we're hybrid; come play!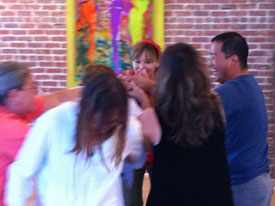 Online, ONLINE
Alternate Thursdays 10-11:30am ET: April 20; May 4, 18; June 1, 18, 29
We gather in presence to breathe spaciousness into our individual and collective body spirits and our communities. Move; roar, sigh, be silly and be serious. We play with what's up and do so with simple, incremental activities that any body can access. Come be transformed (yikes!). For our health, for our capacity to engage and for our beloved world.
Alternate Thursdays 10-11:30am ET: April 20; May 4, 18; June 1, 18, 29.
We are Hybrid - email CC for the zoom link and join from over there (anywhere!).
Cost:

Drop-in $20. cost is flexible; just reach out.
Registration/Information:

ccking.interplay@gmail.com

Leaders

CC King

CC King is a certified InterPlay Master Leader and trainer, Boston-area coordinator and grateful mentor to Leaders in Training and divinity school students. She has been practicing the joyous unfolding of InterPlay for over 20 years and currently serves on the Body Wisdom Board and the Integrity & Innovation Council. CC is an expressive therapist, visual artist, teacher and community activist. As an aspirationally emerging EcoSattva she is dedicated to inviting respectful & celebratory relations with Earth, her beings and one another, via workshops organic sculpture and public performance. Play with elders and Memory Cafes are a special interest, as are cancer support and racial healing & transformation. Her background includes nonprofit management, art and family therapy, trauma-informed InterPlay and a life-long commitment to finding sustenance, creative activism, and joyful reverance in the natural world.