Portals of discovery, with Andy Pritchard's new colorFULL cards
Delving: Come Questing" Cards and Play
visual invitations to stories, movement & vision
CC King
and
Andy Pritchard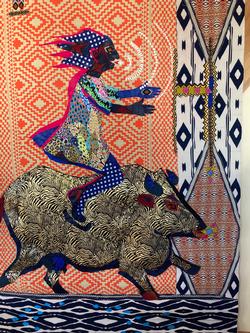 Concord, MA
Alternate Thursdays 10-11:30am April 7 & 21; May 5 & 19; June 2 & 16 [and June 30?]
Experience Come Questing Cards; a deck of 52 cards with vivid images and invitations to excite our imagination, gently push into our symbolism and edges and do so with affirming community. Artist Andy Pritchard has created a discernment deck from her wild and wonderful fabric art featuring figures and images from dreams and symbols. We'll step into movement and sound and story activities using the tools of InterPlay. Engage all your senses and build creative release, curiosity, collaboration and support. .
Cards decks will become available to purchase if you want , but we'll provide them for our group time together. No materials required.
Cost:

Register for the series! $100. Drop-in $20. cost can be flexible; just reach out.
Registration/Information:

ccking.interplay@gmail.com

Venue
Emerson Umbrella Center for the Arts
40 Stow St
Concord, MA 01742
Emerson Umbrella is located in Concord Center. Parking is available in the adjacent lot on Stow Street. The building will be open during the workshop hours. - use the front door.
Leaders
CC King
CC King is a certified InterPlay Leader and trainer, Boston-area coordinator and a memory play specialist. She has been practicing the joyous unfolding of Interplay for over 20 years. CC is an expressive therapist, visual artist, teacher and community activist. As the co-founder of a local arts and environment program, she facilitates workshops in organic sculpture and organizes public performance. Play with elders and Memory Cafes are a special interest, as are cancer support and racial healing & transformation. Her background includes nonprofit management, art and family therapy, trauma-informed InterPlay and a life-long commitment to finding sustenance, creative activism, and joy in the natural world.