The Art of Doodling
Dancing with the Magic of Circles
Art Lab: The Art of Doodling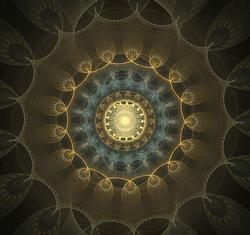 ONLINE
Wednesday, April 14, 6:30 - 8:30 pm ET
In this Art Lab we will incorporate circles and spirals into our art-making. We will also explore geometric symbolism and it's effect on our art and lives. Geometric shapes have been part of human religious symbolism for thousands of years. Circles are among the oldest of geometric symbols, and commonly represent unity, wholeness, and infinity. Pythagoras called them the most perfect of creative forms, without beginning or end. In Buddhist philosophy, a circle stands for enlightenment and perfection. Spirals are related to circles and are fundamental to the underlying structure of natural forms. Spirals and concentric rings are associated with shamanism and altered states of consciousness. This workshop will not just be about making art but about the different ways we experience art and how it affects us. We will integrate movement, art, and playful sharing into our art making experience and explore both the process and the product of our art practice sharing insights, joys and concerns. Suggested Materials: 8 sheets or 8×12 paper or larger, school pencil, mechanical pencil, and/or sketching pencils, and fine tipped and ultra fine tipped Sharpie magic markers in a variety of colors, (optional) colored pencils: strongly suggested: Prismacolor Premier (soft core) or equivalent quality Registration: lizlescault@gmail.com
Cost:

$15 - $20 https://www.paypal.me/lizlescault / no one is turned away for lack of funds.
Registration/Information:

lizlescault@gmail.com

Leaders

Liz Lescault

Liz Lescault, a visual artist and sculptor, has practiced and taught art for over 40 years. Liz is Coordinator of the DC InterPlay Metro Region with Kate Amoss and is a member of the DC InterPlay Board. Currently, Liz melds her art, teaching and personal philosophy with InterPlay wisdom, tools and forms. Liz also leads InterPlay for elders with chronic illness and cognitive disabilities at Iona Senior Center, as well as leading InterPlay for Smith Center for Healing and the Arts offering programs for adults living with cancer and their caregivers.