Unlock the wisdom of your body!
Secrets of InterPlay in the Netherlands 2021
Change your Life ~ Change your World!
Masankho Banda
,
Bernhard Staudt
, and
Sophia van Ruth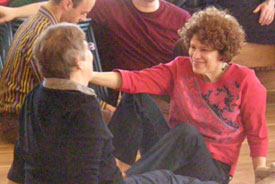 AC Ubbergen, Netherlands
February 18-21, 2021
Thursday, 4 p.m. through Sunday lunch at 1 p.m. CEST
Join us for an
"Online Taster" and Information Q & A
Aug 29, 2020 10:30 - 12:30 am (CEST) (UK: 9:30 - 11:30 am BST) Leader: Masankho Banda, Bernhard, Meg MacLeod (Q+A)
(In case of further corona restrictions we have the option of switching to Online with the program)
Change your Practice - Change your Life!
Come join us for a 4-day "Secrets of InterPlay" retreat, and
immerse yourself in the InterPlay philosophy and practice
in the company of a supportive and joyful creative community.
Learn how you can
use the tools and ideas of InterPlay to unlock the wisdom of your body.
Get your body, mind, heart, and spirit all on the same page. Learn about yourself through
connection and community.
Create more
ease and fun
in your life.
This multiple-day event will give you direct experience in many aspects of the InterPlay system.
It is also an essential element of the
InterPlay Life Practice Program.
that will follow, should you choose to participate. It will be happening online, Germany, near Frankfurt and Nijmegen, Netherlands two weekends a month, from April through September 2021.
Even if you're not planning to do the whole Life Practice Program, you're welcome to attend this "Secrets of InterPlay" retreat - or you can attend the retreat to help you decide if you want to do the whole Life Practice Program.
Repeating the Program
Anyone who has previously completed the Secrets of InterPlay is eligible for the repeaters rate.


Financial Assistance
Diversity is a great gift in the InterPlay experience. Based on our commitment to Racial Equity and Transformation (read our statement here) and our understanding of other structural and personal inequalities that exist; Body Wisdom is committed to making our programs financially accessible.

Financial considerations need not be a barrier to your participation. Financial support and flexible payment plans are available. Please feel free to speak to one of the leaders of this program or to one of the InterPlay staff in the Body Wisdom office (510/465-2797 or info@interplay.org).


Cost:

$400/ca. 355 € tuition ($300/ ca. 265 € for repeaters), plus Room & Board ca 215 € in Chambrette
Registration/Information:

Email Stephanie at info@interplay.org 001/ 510 /465-2797

Venue
De Elegast
Rijksstraatweg 37-77
AC Ubbergen, 6574
Very scenic, quiet place, old cloister, used to be a girls boarding school. There are few single/double rooms, mainly so called chambrettes with own sink, separated by curtains.
Leaders
Masankho Banda
Masankho is a multi - disciplinary Performing Artist, Certified InterPlay Leader, Educator and PeaceBuilder. He brings many unique perspectives to his work around the world. He learned the fine arts of storytelling and dance from his Malawian culture spending many long days and nights listening to stories and dancing to music that captivated his mind, shaped his being, nourished his soul and strengthened his spirit. Using performing arts Masankho motivates and inspires people of all ages to work together to bring about peace, social justice and cultural understanding. In 1997, he started UCanDanc—African Healing Arts to bring his passion for dance and storytelling to communities around the world. Masankho has been a Certified InterPlay Leader since 1999.
Masankho can also be reached at these phone numbers: +265 99 255 5338 or 88 113 8655 (available on Whatsapp / FaceTime)
Also: Skype : kamsisi
Facebook / Twitter: storytelling4u
Bernhard Staudt
Bernhard Staudt offers classes and events. He also plays theatre for children: theater herszstueck. www.theater-hersztueck.de