Open Gathering
Revering Irreverence
Liz Lescault
and
Mike Perz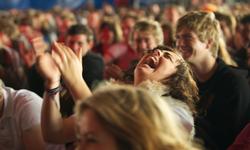 ONLINE
Every first Saturday 10am to noon EST
We will celebrate irreverence, silliness, humor and outlandishness. Playing, laughing and being silly can be an elixir in our daily lives. Irreverence is a form of exformation, giving us a way to move stuff out of our bodies, purging ourselves of stress and ill feelings. Open Gathering is a gathering perfect for both experienced InterPlayers and newcomers. We welcome people from all over the country and world to come and play with the DC InterPlay community. Zoom link:
https://us02web.zoom.us/j/3018523463?pwd=Yi8rM2d6OGlXNUU4QmRTSHh4MDVRdz09
Cost:

$10 https://www.paypal.me/InterPlayDC (or make check payable to InterPlay DC and mail it to Peter Kent, 6827 4th St NW #219, Washington DC 20012)
Registration/Information:

lizlescault@gmail.com

Leaders

Liz Lescault

Liz Lescault, a visual artist and sculptor, has practiced and taught art for over 40 years. Liz is Coordinator of the DC InterPlay Metro Region with Kate Amoss and is a member of the DC InterPlay Board. Currently, Liz melds her art, teaching and personal philosophy with InterPlay wisdom, tools and forms. Liz also leads InterPlay for elders with chronic illness and cognitive disabilities at Iona Senior Center, as well as leading InterPlay for Smith Center for Healing and the Arts offering programs for adults living with cancer and their caregivers.

Mike Perz

Mike is a certified InterPlay leader and leads regularly for the InterPlay DC Open Gatherings. Currently he is leading InterPlay on Zoom. He also performs on an improv comedy team at Dojo Comedy. He has been incorporating/adapting improv comedy exercises into InterPlay forms and hopes to bring some of the InterPlay tools and forms to improv comedy. His other passions include swing and blues dancing, and bicycling.