Movement, Stillness and Rest
Movement Meditation for Women of Color
Time to simply be as we are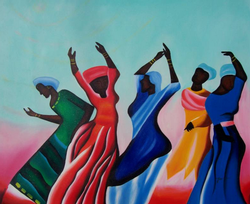 ONLINE
2nd Thursday of Every Month
Meditation and movement practices are important all the time but especially when we're under stress. In connecting to ourselves we open possibilities for sensing and feeling. This listening connects us to "more of ourselves" and supports taking actions from deeper knowing.
What will we do?
During this 60-minute virtual gathering, I'll lead us through a centering practice and a guided movement practice. We'll then move our bodies as we feel for a song or two and then have time for optional sharing.
Who is it for?
While we all need spaces where we can be and rest, those who are marginalized particularly need this support. For this reason, I offer this space specifically for women of color. Come as you are -- pajamas, unshowered, bedhead, we're all in this together. Also know, this gathering welcomes all children and pets -- especially if including the family is the only way to get a moment for yourself.
Is There A Cost?
Nope. This gathering is my gift to the community I support. If you'd like to make an offering to support my work, that can be done via PayPal kelsey@kelseyblackwell.com.
Cost:

FREE
Registration/Information:

https://us02web.zoom.us/meeting/register/tZMvcu6sqj8jGddU9swhrSzTlJWfYM-wcXAi

Leaders

Kelsey Blackwell

Kelsey Blackwell is a somatic coach, writer, and facilitator committed to fearlessly creating spaces for WoC and women to trust and follow the wisdom of their own bodies so they may powerfully shine their lights in a world that sorely needs this brilliance. Follow her at kelseyblackwell.com.