'Sneaky Deep' International playtime! Playing together across the distances
InterPlay Europe Zoom Gatherings
2nd TUESDAYS (except Thursday 10 Dec,)
Mairi Campbell
,
Meg MacLeod
,
Gabriele Panning
,
Annegret Zander
,
Sophie Schultze-Allen
, and
Masankho Banda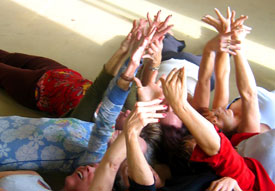 Online, ONLINE
6.45 to 8pm Central Europe time (except Dec.'s is second Thursday).
That's 9.45am to 11am Pacific time

All classes led in English by European InterPlay leaders or emerging leaders.
So far we've had folks from Scotland, South Africa, England, Germany, the USA, Netherlands and Finland. People are often surprised at how lighthearted and deep one can go with InterPlay on the phone or online.

Tuesdays (unless otherwise noted, 18.45 CET // 17.45 UK // 12.45pm EST-USA // 9.45am PST-USA
• 14 Jan, led by Annegret Zander • 11 Feb. led by Gabriele Panning • March 10 led by Meg of the Netherlands
• April 14, led by Mairi Campbell of Scotland
• May 12, led by Sophie Schultz-Allen of Germany
• June 9, led by Gabriele Panning of Germany
• July 14, Annegret Zander, Germany
• August 11- Masankho Banda, International Liaison for InterPlay leaders and emerging leaders, Malawi Africa
• Sept. 8 - Stephan Marchant, Belgium
• Oct 13 is TWO hours, STARTS AT 4.30AM EST / 10.30AM Central Europe / 9.30AM UK, and part of the FREE offerings during International week of InterPlay. • Nov 10, Mairi Campbell & Russell McLarty, Scotland
• THURSDAY Dec. 10, Ade Anifowose, England & Nigeria & Meg MacLeod, Netherlands
• TUESDAY Jan. 12, TBA (after December we'll return to the usual Tuesdays.
Stay tuned for leaders for the rest of the classes

TIPS
Come in a few minutes early to make sure you can be seen and heard, etc.
Close other programs on your computer before logging in, it'll be a lot less glitchy.
Set up computer so a light is in front, not behind you
When you're not speaking, put your microphone on mute

If you are using Zoom for the first time, allow a few minutes beforehand to download zoom if needed and to follow instructions.
Cost:

You can pay what you are able. Donations of 10 - 20 support the leader& InterPlay's work for a playful and just world.
Registration/Information:

For info or to receive the zoom link, email breathe4ease AT outlook DOT com

Venue
Online
Online, ONLINE
This will be an online event which could originate from anywhere in the world and would be open to anyone around the world.