We teach incrementally - anyone can do it.
Friday Night InterPlay Jam!
Play and perform group creations together. Fun!
Laurece West
and
Terry McCarthy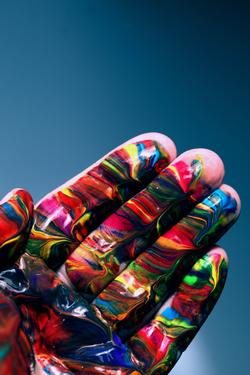 ONLINE
Fridays 6:30 - 8:00 pm ET. Three weeks each month: August 5, 12, 19 September 9, 16, 23 October 7, 14, 21 November 4, 11, 18 December 2, 9, 16
Come play in a group setting with Laurece and Terry and a warm, accepting, encouraging and fun community.
We warm up and do several InterPlay forms using storytelling, movement, and sound. Then we play with performance forms, planned or spontaneously initiated. We do these all together as a whole group or in sequential groups of 2 or 3, until we've all participated. We enjoy the creativity of each person, appreciate each other and laugh together.
You'll have a chance to express yourself while perhaps learning something wonderful about yourself and others.
We teach incrementally - anyone can do it. Both beginners and kids are welcome! (Please share this invitation with young people!)
If you have not already done so, please go to Zoom ahead of time to sign up for a free account. This will ease sign in at the time of the jam. Click this link https://zoom.us/j/239201287 or copy it into a new tab in your browser and you'll be joined into the jam.
Be sure to unmute your video and audio which is down in the menu bar at the bottom, on the far left (for computers and laptops.) For cell phones and tablets, tap your photo and the menu bar will appear. You can chat with each other with the chat function.
See you Fridays!!!
Photo by Sharon McCutcheon on Unsplash
Cost:

Each individual can make a donation to Body Wisdom
Registration/Information:

laurecewest@gmail.com

Leaders

Laurece West

Laurece West is a Business Consultant, Entrepreneur, Voice and Performance Coach, Recording Artist and InterPlay Leader. She is married to Terry McCarthy and together they have lead the InterPlay Life Practice Program and directed the InterPlay performance troupe Impromptu Players in Durham, NC. Impromptu Players was primarily a service organization performing in Ronald McDonald Houses, children and adolescent hospital psych wards, convalescent centers, and libraries, with one public performance a season. Through her work with vocalists Laurece has cataloged the benefits of InterPlay for performers and presenters. These findings apply to everyone! Read more about the results of practicing InterPlay on the Session Structure page at www.laureceweststudios.com

here

. Laurece's business training and consulting website is

Easily Creative.com

.

Terry McCarthy

Terry McCarthy is a musician ,teacher, performing artist with 20 years expereince teaching InterPlay. He is a founding member of Off the Deep End Ensemble and former director of Inner Voices vocal ensemble.He and his wife Laurece West led Interplay preformance troup Inpromptu Players. Laurece and Terry write and peform their original songs together. Terry is a former elementary school teacher with a BS degree in Arts for Children with Music Emphasis. He teaches InterPlay playgroups,performance, storytelling and writing classes. Terry served as a bodyspirit mentor with the Raleigh InterPlay Life Practice Program for 6 years.