An evening of passion, wisdom, creative process and soup
InterPlay Creators Event: A book, a film, visual art obsession, and soup
Celebrating Wakoh Shannon Hickey, Andrew Chen & Phil Porter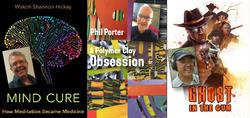 Oakland, CA
Sunday, December 8, 2019 • 5–8 pm
Come celebrate! Three InterPlayers share their creative work.
Wakoh Shannon Hickey has written Mind Cure: How Meditation Became Medicine, Andrew Chen has directed, written and produced the short film Ghost in the Gun, and Phil Porter has been creating at all hours of the day with polymer clay.
We will serve delicious soup at 6 pm and we'll end by Blessing the Art Work and Creators!
Wakoh Shannon Hickey, author of Mind Cure: How Meditation Became Medicine Oxford University Press, gives us a glimpse into the overlooked confluences of Buddhist, Hindu, medical, African American, and women's history in America, with critical reflection on the contemporary mindfulness boom and its ethical, religious, social, and medical implications.
Andrew Chen directed, produced, and has won awards for his 20-minute film, Ghost in the Gun showing that high-quality movies could be made by local filmmakers."Beautiful work by masterful director Andrew Chen." He brought this complicated story to screen in the craftiest of ways, excelled in working within his genres, and managed to create such a lively piece that you'd regret having to occasionally blink!"
Phil Porter, InterPlay Co-founder, has taken a deep dive into the creative possibilities of polymer clay over the last couple of years, creating jewelry, beads, wall art, and a mess in his apartment. He will share some of his process and why he is currently obsessed with this medium.
NOTE: Due to a scheduling conflict, Anita Amstutz, author of Soul Tending: Journey Into the Heart of Sabbath, is not able to be with us as originally announced. We will have copies of her book on hand.
Use this PayPal button to make a contribution, or call the office (510/465-2797) to donate a different amount.
Cost:

$10-$75 donation will go to The Sogorea Te Land Trust, an Oakland Indigenous organization
Registration/Information:

Register at info@interplay.org or call 510-465-2797.

Venue
InterPlayce
2273 Telegraph Avenue (at 23rd St.)
Oakland, CA 94612
InterPlayce is the center of the InterPlay universe. The offices for Body Wisdom, Inc. are also located here. The building is at the corner of 23rd and Telegraph, one block north of West Grand. It is just a few blocks from the 19th Street Downtown Oakland BART station, and on several convenient bus lines. On-street parking is always available at night and metered during the day. It is also easily accessible by several of the major freeways.
Click here for a map.