Change your Life ~ Change your Practice
InterPlay Life Practice Program 2020-2021 (Sep-Apr) Online
Chicago-area
Immerse yourself in the tools & practices of the InterPlay System
Nancy Pfaltzgraf
and
Jane Siarny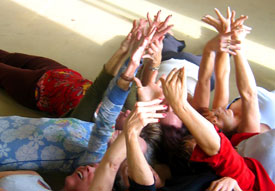 Geneva, IL
6 weekends: September-November 2020
and February-April 2021 TBD
(Fridays 6:30-9:00 pm and Saturdays 9:30 am-5:30 pm)
Due to the Corona Virus, we are delaying the start of this program. If you would like more information, please be in touch with the Body Wisdom office or the Leaders.
Create more
ease, community, grace, energy, and joy
in all parts of your life. Uncover the deep resources of your
"body wisdom."
Explore
new life possibilities
in a community that says
"yes!"
to you.
The Life Practice Program will lead you to
deep places
in your life—the places that
feed, nourish, and energize you
. This practice creates powerful connections with others in a community that is
open and accepting.
The
Chicago-area 2020 InterPlay Life Practice Program
Begins with
The Secrets of InterPlay, a multiple-day retreat where you will be immersed in the InterPlay philosophy and practice, August 20-22, 2020 in Sturgis, MI
(3 hours East of Chicago). You may also attend any other Secrets Retreat.
Schedule
Friday evenings 6:30-9:00 pm and
Saturdays 9:30 am-5:30 pm
TBD September-November 2020 and February-April 2021
In each of the 6 weekends we learn about InterPlay Tools and deepen our practice of the InterPlay Forms. Additionally, each participant will have three opportunities to be mentored individually. The learning and playing are very experiential. In between the meetings, you will be reading and writing reflections to deepen and strengthen your experience.

Online or Phone INFORMATION SESSIONS upon request.


Financial Assistance
Diversity is a great gift in the InterPlay experience. Based on our commitment to Racial Equity and Transformation (read our statement here) and our understanding of other structural and personal inequalities that exist, Body Wisdom is committed to making our programs financially accessible. Financial considerations need not be a barrier to your participation. Financial support and flexible payment plans are available. Please email Stephanie@interplay.org (or call 510/465-2797), or feel free to speak to one of the leaders of this program.


Continuing Education Credit
50 CE credits for various healthcare and allied healthcare professions are available for those practicing throughout the U.S. and for educators only practicing in Illinois. CE pre-registration is required at least 2 weeks before the start of your event. Notify the Body Wisdom office (510) 465-2797 at the time of registration that you are requesting CEUs. A fee of $25 per program will be due at the time you register. CEUs are offered through Continuing Education Institute of Illinois.

Repeating the Program Anyone who has previously completed the InterPlay Life Practice Program is eligible for the $1,000 repeaters rate.


Cost:

$1,950 (includes tuition for Secrets of InterPlay) / $1,000 for repeaters
Or ask about our Tuition Assistance Program
Registration/Information:

Registration questions: email Lucia@interplay.org. For financial assistance: email Stephanie@interplay.org.

Venue
Geneva United Methodist Church
211 Hamilton
Geneva, IL 60134
ample parking, wheelchair accessible, 1 hour West of Chicago
Leaders
Nancy Pfaltzgraf
Nancy Pfaltzgraf has been joyfully leading InterPlay classes and retreats in local and national settings since 2006. Having discovered InterPlay and the Life Practice Program helped her discover ease and joy in her professional life as the pastor of progressive Christian congregations. Her experience as an RN and a Hospice Chaplain has also given her a unique perspective on the way InterPlay can relieve stress and empower people in the helping professions to live and work with more grace and ease. Since leaving pastoral ministry it has been her delight to continue to offer her gifts through Body Wisdom - Deep Play groups for helping professionals, Retreats and Untensives, InterPlay Life Practice programs, Online Body Wisdom Tools classes, online classes and untentsives focusing on the Move to Greatness wisdom and an Online Interfaith Dance Chapel. Nancy holds coaching certification using the FEBI® [Focused Energy Balance Inventory] and Appreciative Inquiry and delights in both one-to-one and group Soul Coaching. Although her home base is in the Chicagoland area, her mastery of online communication forms allows her to serve people wherever they are. All this allows her to fulfill her life mission to "lead with love, follow with trust and dance with joy with those ready to step into the life-giving rhythms of grace".,
Jane Siarny
Jane Siarny is dedicated to uplifting the human spirit through creativity, community building, and body-wise practices. For me, InterPlay opens the door to an integrated spiritual practice that allows for freedom and growth. Throughout my dance career and yoga teaching I have found InterPlay to be the one practice where I can express all of myself; body, mind, heart and spirit. The Online Dance Chapel is one of the best ways for me to consistently share the transformative power of InterPlay. Jane also is the InterPlay Life Practice Program Coordinator, has led numerous Life Practice groups since 1999, and is a Mentor & Facilitator in the InterPlay Leader Training Program. Jane's story can be found in MOVE: What the Body Wants by InterPlay co-creators Cynthia Winton-Henry with Phil Porter.