Points of Connection for Black, Indigenous & People of Color in the InterPlay community
BIPOC Leaders: Points of Connection
Connect online with others around the country and the world
Masankho Banda
and
Carolyn Renée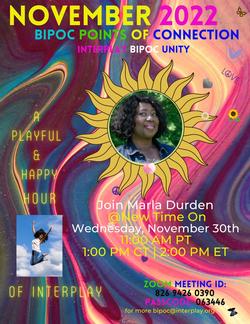 ONLINE
Last Wed of the month • 2022: Nov 30 • Times below
Each month you will have an opportunity to connect online with other InterPlay Black, Indigenous & People of Color (BIPOC) and BIPOC Leaders from around the world.
November's session will be led by Marla Durden.
InterPlay's Liaison to Leaders of Color Carolyn Renée and Liaison to International Leaders Masankho Banda will host the calls on Zoom on the last Wednesday of every month.
Upcoming dates in 2022:
Wed, Nov 30 11 am Pacific / 2 pm Eastern • Led by Marla Durden
Meet new InterPlay friends, get support for your own journey, share your own stories, and chat about what is possible, all in an InterPlayful way. Come if you are brand new or have a lot of experience.
A reminder will be sent out one week prior to the meeting. Download the flyer shown.
For more information, or to make sure you are on the contact list, email Carolyn Renée or Masanhko.
Questions? Email BIPOC@interplay.org.
Cost:

FREE!
Registration/Information:

Questions? Email BIPOC@interplay.org using the link above.

Leaders

Masankho Banda

Masankho is a multi - disciplinary Performing Artist, Certified InterPlay Leader, Educator and PeaceBuilder. He brings many unique perspectives to his work around the world. He learned the fine arts of storytelling and dance from his Malawian culture spending many long days and nights listening to stories and dancing to music that captivated his mind, shaped his being, nourished his soul and strengthened his spirit. Using performing arts Masankho motivates and inspires people of all ages to work together to bring about peace, social justice and cultural understanding. In 1997, he started UCanDanc—African Healing Arts to bring his passion for dance and storytelling to communities around the world. Masankho has been a Certified InterPlay Leader since 1999.

Masankho can also be reached at these phone numbers: +265 99 255 5338 or 88 113 8655 (available on Whatsapp / FaceTime)

Also: Skype : kamsisi
Facebook / Twitter: storytelling4u

Carolyn Renée

Carolyn Renée Morris (she/her) is a teaching and healing artist with more than a decade of service/experience in the creative and healing arts. She's the former executive director of the ArtsXchange, a 37-year-old art and social change organization, and Alternate ROOTS, a 44-year-old social justice organization lifting up art as activism in the Southeast USA. Carolyn Renée is committed to the pursuit of art and social justice, health, and well-being for BIPOC on the frontlines of advancing justice. She is a certified InterPlay Leader and in 2008 became a health and wellness practitioner to heal herself from an illness which led to combining the healing and creative arts. With InterPlay, she creates Sacred Space for BIPOC and partners with USA/Ghana-based A Life of Peace Wellness Education Institute to ensure every home has an engaged artist/healer. She goes by "Carolyn Renée."