These offerings are open to all BIPOC everywhere: Tell a friend and invite them to attend!
BIPOC INTERPLAYERS UNITE
Connect online with others around the country and the world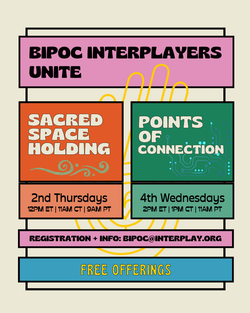 ONLINE
2nd Thur: 12PM ET | 11AM CT | 9AM PT and 4th Wed: 2PM ET | 1PM CT | 11AM PT
Each month you will have an opportunity to connect online with other InterPlay Black, Indigenous & People of Color (BIPOC) and BIPOC Leaders from around the world.
BIPOC InterPlayers Unite in May:
Sacred Space Holding will be led by TBA.
2nd Thursday in April
12PM ET | 11AM CT | 9AM PT
Points of Connection led by TBA.
4th Wednesday in April
2PM ET | 1PM CT | 11AM PT
Come join us in play and meet new InterPlay friends, get support for your own journey, share your own stories, and chat about what is possible, all in an InterPlayful way. Come if you are brand new or have a lot of experience.
Sign up for focus group sessions as part of the April Sacred Space Holding:
A reminder will be sent out one week prior to the meeting.
For more information, or to make sure you are on the contact list, email Carolyn Renée.
Questions? Email BIPOC@interplay.org.
Cost:

FREE!
Registration/Information:

Questions? Email BIPOC@interplay.org using the link above.

Leaders

Carolyn Renée

Carolyn Renée Morris (she/her) is a teaching and healing artist with more than a decade of service/experience in the creative and healing arts. She's the former executive director of the ArtsXchange, a 37-year-old art and social change organization, and Alternate ROOTS, a 44-year-old social justice organization lifting up art as activism in the Southeast USA. Carolyn Renée is committed to the pursuit of art and social justice, health, and well-being for BIPOC on the frontlines of advancing justice. She is a certified InterPlay Leader and in 2008 became a health and wellness practitioner to heal herself from an illness which led to combining the healing and creative arts. With InterPlay, she creates Sacred Space for BIPOC and partners with USA/Ghana-based A Life of Peace Wellness Education Institute to ensure every home has an engaged artist/healer. She goes by "Carolyn Renée."