Interplay! Gather in Winter and Find What is Stirring
a workshop to nurture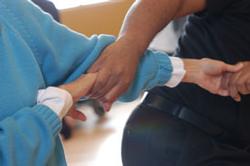 Northampton, MA
Sundays, February 23 and April 5, 2:30 - 4:30pm (come for one or both sessions!)
Move out...what hinders; unload and release; Retrieve…our breath, our strength and spirit, our movement and voice; Connect...with one another, with ease and healing. This workshop is appropriate for all bodies ages 16 and up.
Facilitated by C.C. King and Lisa Laing, Certified InterPlay leaders and trainers. For more information about Interplay: www.interplay.org or Interplay on Vimeo: https://vimeo.com/288570508 https://vimeo.com/288570508
Cost:

$20-40 per session, sliding scale, or make your Love Donation
Registration/Information:

artandsoul.wm@gmail.com

Venue
Art & Soul - the Nest
11 Center Street
Northampton, MA
?The Nest @ First Churches is located on the second floor of the building. Regretfully, at this time, this space is not easily accessible for those with mobility issues. However, you are interested in an Art & Soul workshop at The Nest and you do have mobility challenges, we will gladly make arrangements. There are several options for parking near The Nest space. The parking garage behind Thorne's Market is a five-minute walk from The Nest. The first hour is free; each additional hour is 75 cents. The James House/Gothic Street parking lot on Gothic Street is also a five-minute walk from The Nest.
Leaders
CC King
CC King is a certified InterPlay Leader and trainer, Boston-area coordinator and a memory play specialist. She has been practicing the joyous unfolding of Interplay for almost 20 years. CC is an expressive therapist, visual artist, teacher and community activist. As the co-founder of a local arts and environment program, she facilitates workshops in organic sculpture and organizes public performance. Play with elders and Memory Cafes are a special interest, as are cancer support and racial healing & transformation. Her background includes nonprofit management, art and family therapy, trauma-informed InterPlay and a life-long commitment to finding sustenance, creative activism, and joy in the natural world.
Lisa Laing
Lisa Laing is a Certified InterPlay Master Leader, fitness professional and Certified Cancer Wellness Specialist. She incorporates the practices and forms of InterPlay in each of these aspects of her career. Lisa has brought InterPlay to incarcerated women at York Correction Facility in CT, interdenominational clergy groups, as well as students at The Juilliard School, Yale Divinity School and Southern CT State U. Lisa co- developed and co-leads an ongoing cancer wellness group, Hope Is Power, very much informed by InterPlay. Lisa co-leads the InterPlay Life Practice Program and Secrets of InterPlay in the northeast with both Katrina Browne and CC King and is an InterPlay Leader Training Mentor. She currently serves on the InterPlay Body Wisdom Board. "I am blessed to be a part of this world-wide community of creators, instigators, healers, nurturers, adventurers, huggers, grace-operatives, activists, artists; InterPlayers All!"