To Change Your Life, Change Your Practice
InterPlay Life Practice Program—Raleigh/Online 2019-2020
Join us for the Opening & Closing Retreats & 8 online sessions
Natalie Abdou
,
Ginny Going
, and
Ken Miller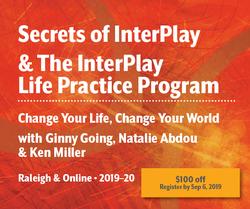 Raleigh, NC
Secrets of InterPlay Oct 24-26, 2019
Thu 9:30 am – Sat 3:30 pm
8 Online Sessions Weds. 5-7 pm East Coast time • Closing Retreat Mar 26–28, 2020
Thu 9:30 am – Sat 3:30 pm
NOTE: This program is the same one listed in the Online section of the event listings.
The InterPlay Life Practice Program is an active, creative way to change your life and change your world. Immerse yourself in the system of InterPlay—ideas and practices that can move you from where you are to where you would like to be. Find your freedom through movement, story, sound, and stillness in a process that values ease, affirmation, and incrementality.
This program is open to participants from any location. The opening and closing retreats will take place in Raleigh, North Carolina, but the rest of the program will take place inlive online sessions which you can access remotely.
You will be mentored by certified InterPlay leaders Ginny Going, Natalie Abdou, Ken Miller.
• Unlock the wisdom of your body!
• Have more fun!
• Decrease stress and increase ease.
• Make wiser, more grounded decisions.
• Thrive by getting body, mind, heart and spirit to all work together.
• Find easy ways to change what you want to change in your life: relationships, work, community, home, spirit, body image…
• Discover your hidden resources.
You will be learning the key ideas and practices of InterPlay—important and helpful body wisdom tools. You may use this supportive, affirming community to help you shape your life in ways that are best for you. You will get individual attention from the Program leaders who will help you identify your personal desires and intentions.
Download the full Raleigh/Online Life Practice Program brochure.
Program Elements & Schedule
Secrets of InterPlay
Oct 24–26, 2019 • Raleigh, NC

You will receive an overview of the InterPlay system and get to immerse yourself in play. You may enroll in just this weekend alone without enrolling in the whole program, or use the event to fulfill your "Secrets" requirement in another Life Practice Program.
Thursday 9:30 am – 5:30 pm
Friday 9:30 am – 5:30 pm
Saturday 9:30 am – 3:30 pm
Online Sessions
Wednesdays, 5–7 pm East Coast time (please translate these times into your own time zone, taking into account the end of daylight saving on Nov 3, 2019)
2019: Nov 13, Dec 4 & 18; 2020: Jan 8 & 29, Feb 12 & 26, Mar 11
Individual Mentoring
You will also have three one-hour, one-on-one sessions with a mentor, similar to a Focus Session, to be scheduled at your convenience.
Reading & Reflection Assignments
The assignments will be based on the InterPlay book Having It All: Body, Mind, Heart & Spirit Together Again at Last. The reflections can take many different forms: writings, letters, artwork, poetry, photography, etc.
Closing Retreat
March 26–28, 2020 • Raleigh, NC
Thursday 9:30 am – 5:30 pm
Friday 9:30 am – 5:30 pm
Saturday 9:30 am – 3:30 pm
We gather again to play and learn together in person and complete the Life Practice Program process.
Tuition
The tuition for the program is $2,250. Payment plans and scholarships are available. A $100 deposit reserves your spot in the program.
The opening and closing weekends are non-residential events. A limited number of home stays may be available for out-of-town participants as well as hotel/motel options. For housing options, contact Ginny Going at colleagues.interplay@gmail.com.
Repeating the Program
Anyone who has previously completed the Life Practice Program may repeat the full program for $1,000, including Secrets of InterPlay.
Financial Assistance
Diversity is a great gift in the InterPlay experience. Based on our commitment to Racial Equity and Transformation (read our statement here...) and our understanding of other structural and personal inequalities that exist; Body Wisdom is committed to making our programs financially accessible. Financial considerations need not be a barrier to your participation. Financial support and flexible payment plans are available. Please feel free to speak to one of the leaders of this program or to one of the InterPlay staff in the Body Wisdom office (510/465-2797 or info@interplay.org).
Continuing Education Credit
16 CE credits (for the ONLINE sessions), 3 CE credits (for the mentoring sessions) and 18 CE credits each for the opening and/or closing retreats for various healthcare and allied healthcare professions are available for those practicing throughout the U.S. and for educators only practicing in Illinois. CE preregistration is required at least 2 weeks before the start of your event. Notify the Body Wisdom office (510) 465-2797 at time of registration that you are requesting CEUs. A fee of $25 per program will be due at the time you register. CEUs are offered through Continuing Education Institute of Illinois.
Cost:

$2,250/$1,000 for repeaters
Registration/Information:

Call the Body Wisdom office at 510/465-2797 to register

Leaders

Natalie Abdou

I have been on a life-long journey of curiosity and creativity, and have spent the last 10+ years connecting and collaborating with diverse communities, in North America and the Middle East, by co-creating learning environments that are founded upon shared values of diversity, love, respect and self-empowerment - embracing a vision of solidarity, social justice and change from the inside-out. I weave in elements of embodied wisdom, Theatre of the Oppressed and other visual/movement/story arts into my practice and see/feel the arts as portals for personal and collective transformation, providing space for our souls to dance, breathe, heal and unleash the deep wisdom that resides within. That is why my heart exploded with resonance and childlike joy when I came into connection with Interplay in 2015 - since then I have had the gift of mentorship and leadership within the Arts & Social Change program, of mentoring alongside Cathy Ann in the Life Practice Program, and co-creating with Interplay POC community as we explore and better understand the ways in which this diverse unique group body plays. I feel deep gratitude for the way in which InterPlay has danced its way into my life bringing with it so many quirks and magic.

Ginny Going

As a recovering serious person, I consider InterPlay my 12-step program and my life practice for having more ease and grace. I've been InterPlaying for 27 years and have watched the blooming and spread of InterPlay all over the world with gratefulness and delight.

For the past 13 years I've been immersed in the development and growth of the Leader Training Program and currently serve as the program coordinator. I love offering people the "big body" tools of InterPlay for telling their stories, especially people on the margins of our communities. I am also passionate about embodied spirituality, engaging people in prayer and worship forms that include and honor the body. It has been an amazing experience to participate in and teach InterPlay in many places around the world.

Currently the Leader Training Program is being reshaped to integrate Racial Equity and Transformation into all aspects of InterPlay leader training. This is truly an exciting and exhilerating time to be part of the world-wide community of InterPlay!

Ken Miller

Ken Miller was introduced to InterPlay by Tom Henderson and Ginny Going in 2002. Ken accepted their invitation to join Off the Deep End Ensemble as a musician in the group. Ken created beautiful keyboard solos as well as sensitive accompaniment for the group's dance and vocal improvisations. Since retiring in 2009, he has been leading InterPlay for beginners through seasoned InterPlayers. He is known for his masterful storytelling—and for his irrepressible humor. Ken is also the creator of the Interplay form "The Banana Song".