A special group for men online
Online Men's Workshop
Discover your unique body wisdom in a playful way
Amos Alan Lans
,
Phil Porter
, and
Randy Newswanger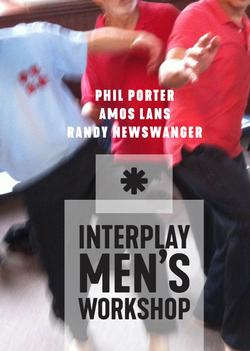 ONLINE
Saturday, February 20, 2021 • 10 am – 12:30 pm & 1:30–4 pm (PT)
InterPlay co-founder, Phil Porter, joins InterPlay leaders Amos Lans and Randy Newswanger, to co-lead an online Men's Workshop, on Saturday, February 20, 2021, from 10 am – 12:30 pm and 1:30–4 pm (PT) . Come for a unique chance to play with a group of special men from all over the place!
Newcomers to InterPlay, long-time InterPlayers, and "regulars" of the Thursday evening class are warmly welcomed. We'll gather in community through stories, irreverent noise-making, easy movement, and playful connection.
Discover what wisdom wants to emerge from your unique body and all its gifts! Celebrate who you are in your fullness and enjoy the delight of others. Delve into some InterPlay forms that are possible when there is more time to be together. Savor one another's company in a safe, affirming, and laughter-filled community.
We take a broad view of gender identity, so if you feel called by such a workshop, please come!
Here is the Zoom link: https://us02web.zoom.us/j/794173752
Cost:

Sliding Scale: $30–$50 no one turned away for lack of funds
Registration/Information:

Use the Pay Now button above or email Lucia@interplay.org for other payment options

Leaders

Amos Alan Lans

Amos Alan Lans likes to tell folks, "I became a dancer in my 50's, thanks to InterPlay!" Amos is one of the three co-leaders of the Thursday evening men's drop-in class. He loves introducing InterPlay to groups of men, especially gay men, especially older gay men who are learning new ways of enjoying being in their ageing bodies as well as playful ways of connecting with other guys. Letting stories emerge from movement is one of Amos' favorite InterPlay activities. For 20+ years, Amos set up and taught in public school gardening programs. He now teaches the joys of composting, gardening, and healthy eating to at-risk urban youth in North Oakland's Dover Street Edible Park, near his home on 61st Street.

Phil Porter

Phil is one of the founders of InterPlay. He is a teacher, performer, writer, and organizer. With Cynthia Winton-Henry he is the co-founder of WING IT! Performance Ensemble, and has written several books, some in collaboration with Cynthia, including Having It All: Body, Mind, Heart & Spirit Together Again at Last and The Slightly Mad Rantings of a Body Intellectual Part One. Phil is particularly interested in the use of InterPlay in organizational life, and believes that InterPlay can be a powerful tool to create communities of diversity and peace.

Randy Newswanger

Randy has degrees in physics and divinity. His experience includes teaching high school math and physics, working in philanthropy, and turning doodles into fine art prints. He desires to build just and sustainable communities, is exploring forest gardening, and tries to incorporate InterPlay philosophy as a core decision making tool in his life.